You've been intrigued by the idea of styling your dining room with benches. That may be due to the illusion of informality and intimacy they offer. However, you might not be sure how to make it work, as dining benches come in different styles, materials, and heights. One extremely crucial aspect to consider when integrating benches in your dining is comfort. 
Dining benches may not offer the same comfort and personal space (breathing room) as a traditional chair would. However, benches bring a feeling of togetherness indoors while adding a unique decorating twist to a dining room. They maximize seating space and break the monotony of conventional seating areas.
Versatile and charming, the bench is paving its way back into dining rooms. But before jumping into this exciting trend, stick around, and let's explore dining benches' comfortability and how you can make them cozier.
Why Do Dining Tables Have a Bench?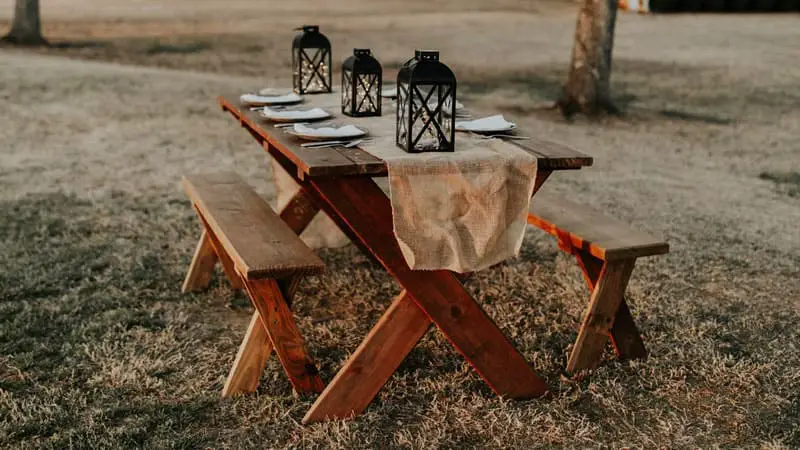 Your dining space is more than just a room. It's where people indulge in delicious food, enjoy a lovely ambiance, and exchange joyous pleasantries. For that reason, you should make your dining area exclusive, aesthetic, and comfortable. You can do this by delving into the latest trend of using benches instead of chairs for the dining table set.
Dining benches create more seating in your home without taking away the sophisticated design aesthetic. They offer an ideal solution for large families as they enable you to fit more people. For instance, a space that can accommodate two chairs can serve three people on a bench. 
Often used to anchor heavy tables, benches are an efficient and elegant way of creating a lower focal point. Moreover, they are more aesthetically appealing in all dining spaces since they bring uniqueness in texture and finish. Besides, dining benches come in different forms and shapes – from banquette-style to wooden benches, you can choose from anything.
Benches can give your dining room a modernized and casual look you might not achieve using conventional dining chairs. In addition, they contribute to an easy-going feeling for people who seek a relaxed look or less formal style in dining spaces. 
Furthermore, dining benches are easy to clean. You can wipe the top surface down, and the bench is clean. Moreover, they are easy to move about when you're vacuuming or sweeping under the table.
Why Choose a Dining Bench Set?
A dining bench set might seem like a colossal décor jump. But, when chosen to complement the size and shape of your room, it can work wonders in your space. Whether you choose a bench with a back or corner unit or a backless one, the bench set can transform your dining area. Furthermore, its versatility allows you to pair it with dining chairs for mix and matching seating arrangements. 
Do Dining Benches Save Space?
Since they have a straightforward design, benches don't make the dining space appear crowded or cluttered. This aspect makes them ideal for those with a small dining area. Besides, a backless bench can slide easily under the tables. Hence, you can push it entirely out of your way (that isn't easy to do with other chairs), making it an elegant and efficient space-saving solution.
Are Wooden Dining Benches Comfortable?
Simple wooden benches may seem far too understated, but when you couple them with a matching dining table, they fit perfectly. Besides, wooden benches don't necessarily have to be relegated to shabby chic, rustic and traditional dining rooms only. Instead, they complement any décor.
Imagine a beautiful wooden bench, sanded smooth and stained with a lovely, rich color to complement your dining table. One issue with wooden benches is that they don't feel comfortable. While they can seat more people, comfort could be something you'll have to sacrifice here a tab bit.
How Can You Make Your Bench More Comfortable?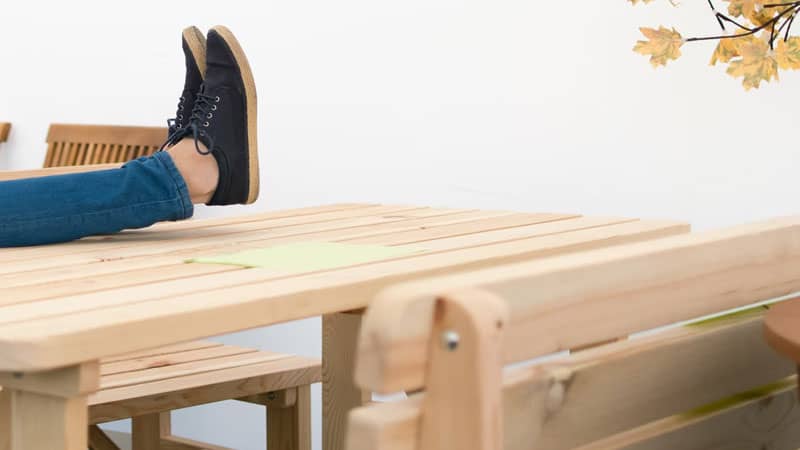 Quality bench cushions are the easiest way of making your benches more comfortable. You should take some time to measure the seat to ensure you get the exact dimension you are looking for. With these dimensions, you can buy cushions from the store or have custom-made ones.
You could add more cushions of different sizes and shapes on top of a bench to add comfort. You can move these scatter cushions about as needed. You can even include a cashmere throw to add the bench appeal.
Another way to bring comfort to the benches is by going the upholstered route. These benches offer a different aesthetic- a curated, modern look. Whether it's in leather or fabric, an upholstered bench will up the comfort quotient of the dining seat.
Sometimes, the back-lessness of the bench could be the cause of discomfort. In such scenarios, you can opt for a bench with a backrest. From an upholstered to a wooden bench, you can find an option with an attached backrest. Besides adding comfort, the bench with a backrest makes your furniture stand out in your dining space. 
 Does Height Affect Dining Bench Comfort?
The ergonomics of the bench can affect seating comfort. Typically, the seat height should allow people to sit with feet flat on the ground in front of them. Otherwise, the seat lip might cut off the circulation of the thighs and hence reduce comfort substantially. Typically, 15 to 17 inches high benches will offer most people the comfort they need.
How Long Should Your Dining Benches Be?
The length of your dining bench will vary based on the type of dining table and space available. However, it should be equal to or shorter than the table length. The typical size of the dining benches is 140cm, but you can also find some measuring up to 220cm.  Moreover, if you want to set your dining bench against the wall, measure the backrest height to ensure it won't interfere with paneling or windows.
How Much Clearance Does My Bench Need?
The right amount of clearance is vital in increasing comfort and gives you room to use it well. That's because clearance will make it easier to move the bench in and out when seaters are using it at the dining table. Hence, the clearance should be higher than with stationary benches (at four feet). That will make it easier for people to sit up, scoot backward, or get up.