IKEA products have proven to be helpful in domestic homes around the world. One of the top household products is their functional mountable wardrobe, their pax system. However, they come in large sizes and makes me wonder if I can shorten them to fit into a smaller space.
You can shorten the IKEA PAX easily. With no alternative product available on the site, cutting it to fit into your home is your best option. Though the cutting process might be a little tricky, anyone can see it through.
If you plan to shorten the PAX wardrobe, you should keep reading to find out how you can do so easily.
What is the IKEA PAX?
There are many furniture brands out there that produce wardrobes. Some of these brands include String, Normann Copenhagen, and so on. Among them all, the IKEA PAX remains one of the unbeatable in the industry. 
The IKEA PAX wardrobe system is a storage facility designed to suit your home's wardrobe needs. Like every other product they manufacture, the IKEA PAX is also created with a DIY design. This allows the owner to set up the wardrobe from scratch and mount it quickly without much effort.
It also features a wide range of styles and designs to fit consumers' tastes. There are a handful of sizes and color options to match the tone of your home. If the color combination you want is not in their list of options, you can easily paint the furnishing with any color.
The wardrobe frames, doors, and fittings also come in several styles. You can select the kind of internal fittings you want for your wardrobe depending on your taste, wardrobe size, and room style.
The IKEA PAX has all of its features separate and has several fittings that you can use to put them together. However, ensure that you study each part to know the right one that will fit in.
Can You Customize IKEA PAX?
The IKEA PAX wardrobe system features a bonus termed the PAX planner. This exciting feature gives you the power to customize your IKEA PAX.
As stated earlier, there are many options to choose from already when getting your PAX. However, the IKEA company has proven to understand that there might be features you'll want to add to spice up your taste. This is where the PAX planner comes in.
How Does the PAX planner work?
Using the PAX planner is pretty easy and fun as well. You can find this feature on the company's site or after browsing the internet. Simply click on the 'Design Your Own' icon when you find the page.
You'll discover a page where you can select your own color shade, typically shades of brown, grey, and black. After this, you will go on with picking the depth and height. You should then open up the next page.
Here, you can customize the frames, doors, handles, interiors, lighting, room design, and others. There are also other buttons on your screen which you can use for added designs.
The design has a friendly interface. A preview panel displays everything you need to see as you build it up. This makes it an enjoyable experience that is really worth trying out.
As you employ their drag-and-drop feature in building up, take note of the price attached to each addition you make to your wardrobe. Of course, there is a total price tag hovering above. Once you're convenient with the price total, you may proceed to finalize and complete your order.
How Can I Purchase an IKEA PAX Wardrobe?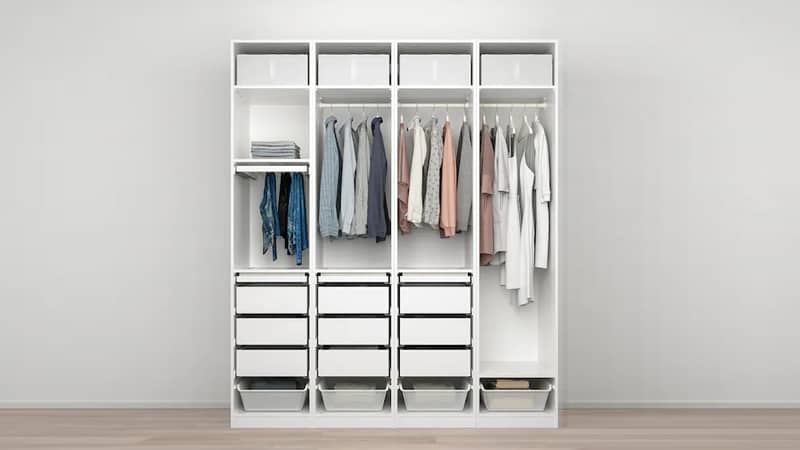 The IKEA site features a beautiful display of a handful of their products. Simply navigate to the site and go through their available offers to purchase their wardrobe. Once you are convenient with the price, you may proceed to checkout.
If you prefer to make changes to the design, then customize their offer to your taste. Once you complete your payment, the company will ship it to you.
Can I Shorten IKEA PAX?
When setting up your IKEA PAX, the ceiling height is critical. Sometimes, the dimensions may not be accurate, and you will get stuck trying to fit it in. You may easily mount it while the wardrobe is still on the ground only to realize you can't stand it up.
In this situation, shortening the IKEA PAX becomes the best option. However, to retain the shape and beauty of the wardrobe, it is advisable to have an expert do it.
How Can I Shorten IKEA PAX?
Shortening your IKEA PAX wardrobe is quite simple. Any material you use to cut into particleboards will do as it is just a combination of woodchips, sawdust, and others. A table saw or circular saw can do a good job.
The technical part, however, is the part of the measurement. Before you start cutting, take the measurement of the room in comparison with the height of the PAX. Note the differences between both of them before cutting. 
It is also important to note that you should leave little inches between your ceiling and the top of your wardrobe. This will give room for you to open your wardrobe door without it hooking to the top of the ceiling.
Some situations may demand you cut it diagonally or slant to fit into an awkward angle. This will require a more technical measurement. Always have in mind that you'll need enough room height to accommodate the diagonal dimension of the wardrobe.
How Much Can You Cut off the Pax Wardrobe?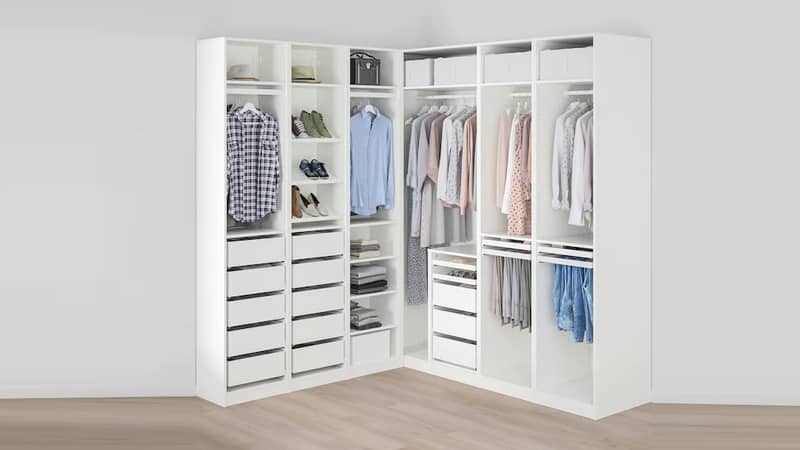 You can cut out as much as necessary to fit into your space. It is possible to cut the top half and cap it with the original top panel.
Of course, you will not want to cut it in such a way that it becomes irregular or out of place. Ensure you do not cut so much as to damage the wardrobe's worth. Again, put your measurement first in taking the step.
If you have never cut a wooden material before, you should not attempt to shorten your wardrobe yourself.