Futon frames have mattresses to act as the main sleeping surface and sitting surface for a couch. Sometimes the mattress wears out and you need a replacement. So can you put a regular mattress on a futon frame?
You can put a regular mattress on a futon frame in many instances. However, futon frames do generally take custom mattresses specially built for futons. There is some overlap but you will want to take some measurements to make sure.
Futons and beds have some features in common but not all parts are fully interchangeable. Futons have the ability to swap between a sofa and bed and so need mattresses that are flexible to do so. I'll show you some common areas to be aware of when making the swap from mattresses to futon or the other way around as well as some strategies to make sure you don't get caught out.
What Is the Difference Between a Futon Mattress and a Regular Mattress?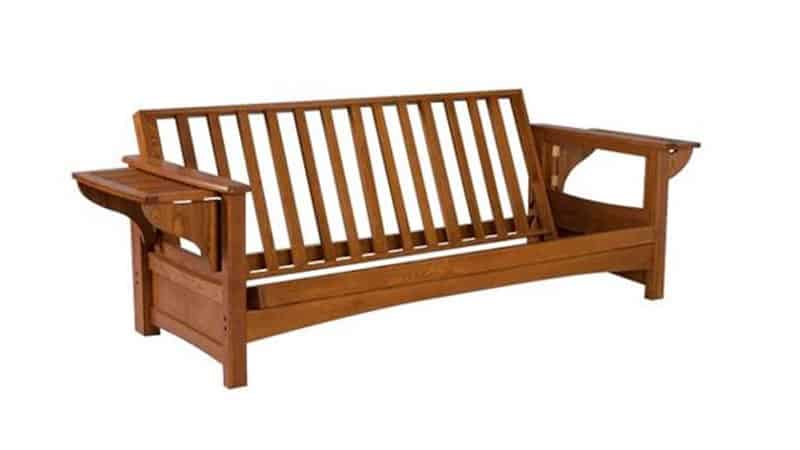 A futon is a word that covers a certain type of furniture. Most commonly futon refers to a type of furniture that can convert between a bed and a sofa/couch. This means a custom frame that converts between the two and a mattress that may not be able to be disconnected or separated.
Trying to put a regular mattress on a futon is possible but won't work well in most situations. You're probably going to lose the ability to convert the futon between a sofa frame and a bed frame while the mattress is on there.
A futon works because it has a custom-built futon mattress that accommodates the corresponding bend on the futon frame to get it into the sofa configuration. When considering placing a futon in a room, make sure you check what its full dimensions are when it is in the futon configuration versus the sofa configuration to make sure everything fits.
When deciding whether to buy a futon you should determine its primary function first. Will it be used for sleeping, sitting, or both? If both, are both functions needed on a daily basis, or will you use it as a bed only for guests? Because if you're buying a futon primarily to sleep on, unless you have other considerations, a mattress and bed frame will be more comfortable to sleep on.
Futon mattresses come in a wider variety of sizes than regular mattresses. Futons should be at least 5 inches thick, with thicker futons often used on beds for adults. Futon mattresses come in full, queen, and king bed sizes alongside the custom sizes depending on the model and brand of the futon.
Futons are useful for their convenience and space-saving capacity. They may not be as comfortable as a regular mattress on a bed frame and so for long-term sleeping options, it may not be your best bet.
The internal materials of a futon may be nothing more than fabric. Traditional or regular mattresses either have springs, coils, foam, or some other material primarily used for support and comfort. While this can add to the weight and size of regular mattresses, they will also provide higher levels of support which can be important for some people, like those that get back pain. Depending on the futon you may get these material compositions as well.
Finally, futons will generally be a lot cheaper than purchasing a bed with a mattress and sofa separately. This means you get a lot of efficiency with the one purchase with the ability to accommodate guests rapidly.
What Is the Best Mattress for a Futon Frame?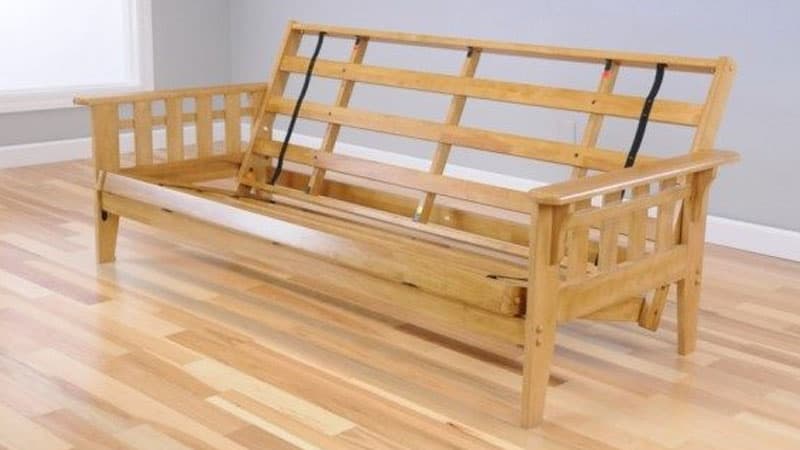 Most futons are going to require a specific mattress. Even other futon mattresses for different model futons may not work particularly well. There are many designs possible with futons, from complex articulating parts with spring mattresses to simple fold-out futon mattresses with no foam or springs involved.
Your best bet is to get a like-for-like replacement or listed compatible futon mattress for your frame. If you are not going to use the futon features such as using the futon as a couch during the day but as a bed at night, then it is not such an issue if you cannot convert the futon easily.
Normal mattresses are not meant to bend and so you will likely be unable to ever have a normal mattress on a futon in the sofa position. This is even the case for memory foam mattresses as they do not have enough flexibility to bend to the contours of a shape like a couch or a sofa.
Mattresses can also be very heavy compared to futon mattresses and so you should ensure the futon frame is sturdy enough.
Can You Use a Futon Mattress on a Regular Bed Frame?
In most instances, a futon mattress will work on regular bed frames. Given the custom size of futon mattresses, it is unlikely they will fill out or fit the bed frame and so may look a bit unusual. Depending on the bed frame, additional supports may be required to hold the mattress in place, like wooden slats.
Regular mattresses tend to be a more solid object whereas futon mattresses can be quite flexible. This has flow-on effects if the bed frame does not have adequate support. It can also mean that your futon mattress may lose shape over time, especially if getting dual use as a couch during the day and a futon at night.
Futon mattresses work particularly well on platform beds or bed frames with slats. Most futon mattresses will easily sit on top of such beds and so you will have no issue. Certain bed frames have sides that will interfere with getting in and out of your bed with lower mattresses. This makes certain futon mattresses completely incompatible with bed frames, particularly those with cavities or depressions in them to hold the mattress.