You most probably know and appreciate the importance of getting an interior designer to help you in the interior design of your home. However, you recently heard something about furniture stores bundling interior design services with their offerings. Do they do that?
Most furniture retailers offer interior designers to help assemble furniture pieces and blend them perfectly with the rest of your home. However, store interior designers are less versatile than independent ones because they can only recommend furniture pieces from their employer's collection.
In this article, you'll learn how to get amazing discounts on your interior designs by shopping at specific furniture stores. You'll also learn how much an independent interior designer costs, and how a furniture store interior designer compares to an independent interior designer.
What Does an Interior Designer Do?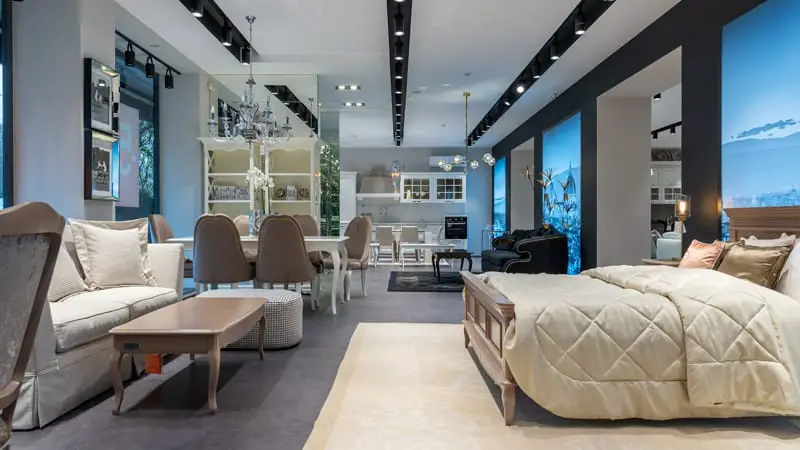 Interior designers are career professionals to create a safe and functional space in your home that matches your aesthetic bias. With clients ranging from new homeowners to large companies, they focus on creating the most beautiful interior designs for all buildings.
Interior designers can use a variety of methods to achieve their goals. Commonly, they control the furniture placement, windows, doors, lighting, curtain choices, flooring, etc. to create a design that looks cohesive and relaxing.
There are many categories of interior design, but the most common by far is household design, and for obvious reasons. In addition to that, an interior designer can also help design hospitals, offices, or even kitchens.
The process of buying furniture and hiring an interior to help set them up can be pretty expensive. To cut down on costs, you may need to order everything you need in a bulk package.
If you can get a free interior design service by buying your furniture at specific furniture stores, it may make the offer sound like a no-brainer. The rest of this article will show you if it should sound like a no-brainer offer.
Are Furniture Store Interior Designers Better than Independent Ones?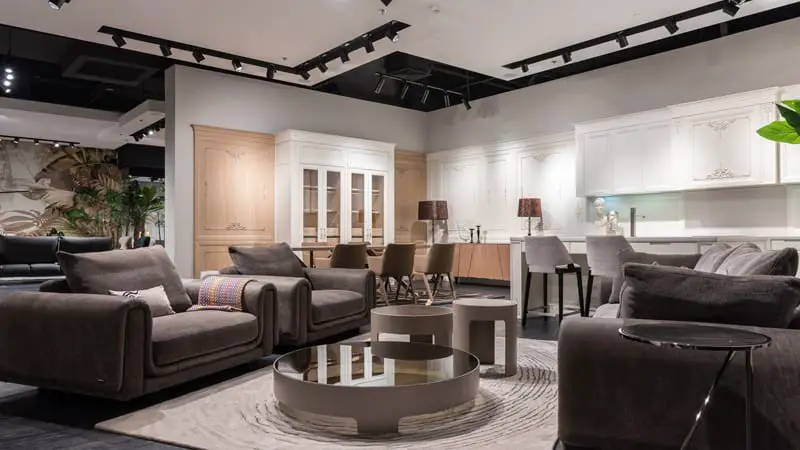 Hiring an independent furniture retailer doesn't give you a similar experience as using the one you got as part of your package from your furniture retailer. While one isn't significantly better than the other, they have vastly different objectives, and that will reflect in the service you get.
An independent interior designer will work with you throughout your home design process. In some cases, you can even hire a home interior designer before starting to build the house to get their expert view on the structure of your home.
Independent interior designers will also help you outline all the items you need to realize your dream room. Then, they'll purchase these items for you at prices that you can't beat. That makes it crucial to hire an independent interior designer before you even think about designing your home.
Furniture store interior designers, on the other hand, aren't obliged to help you plan anything. In most cases, they won't, as their main job is to ensure that the furniture pieces you purchased from their company look perfect in your apartment.
If you're looking for someone to do a comprehensive assessment of your home and make recommendations on what to buy, you should probably hire your designer. Even if you use a designer from a company, they're most likely to only recommend furniture pieces that their parent store offers.
In such circumstances, you're typically the one to purchase any furniture piece if it's not part of the furniture store's collection. This will defeat one of the major purposes of hiring an interior designer, which is to get exclusive discounts on furniture prices.
As you might have already guessed, interior designers contracted to furniture stores usually have the main goal of making sales for their companies. When you use one, your home's interior design will be mostly limited to the design language of the furniture store.
In some cases, the so-called interior designers from a furniture retail store aren't even qualified professionals. They're just sales associates with some experience with helping people to fix their furniture.
If you're at the early stage of planning out your home's initial design, you should go with an independent interior designer. They will visit your home, make recommendations for furniture, and help you get the lowest prices from variable furniture retailers.
If you've already purchased at a steep price, you may want to stick with the designer your furniture store offers. While they may not offer a service as thorough as what you'll get from an independent designer, you can find some pretty great ones too.
Best Furniture Stores with Free Interior Design Services
If you've decided to go with an interior designer that works with a furniture retailer, it's important to learn that not all furniture retail stores will offer you a free interior designer with a purchase. Before making a purchase, it's important to check their terms to see how you can qualify for one.
If you think terms are too boring, you don't need to do that. Here are some of the best furniture retail stores in the United States that will offer you a free interior designer with a bulk purchase.
1. Pottery Barn
Since Pottery Barn is focused on home furnishing, it's easy to see why they will offer you an interior designer with most purchases. While you shouldn't expect a designer with a master's degree, Pottery Barn's offerings are passable at worst.
It doesn't matter what you're trying to set up; weddings, birthdays, rooms, or offices, Pottery Barn's associates will always be available to lend you a hand.
2. Crate and Barrel
Just like Pottery Barn, Crate and Barrel are also into home decoration, making it logical for them to offer interior design services. Crate and Barrel's pricing for an interior designer can range from free to $99, depending on the services you want.
If you opt for the $99 premium design charge, your designer will make a 3D floor plan to ensure that the furniture fits well and blends with the rest of your building.
If you're after in-house interior designers, only a few furniture retail stores come close to Crate and Barrel's professionalism. However, their designers aren't as versatile as independent ones due to the limited stock they can recommend.