I never thought I could be a DIY person, but something inside me always wanted to try. I would often catch myself thinking of making a small, unique object which I could exhibit in my living room and say, "Yes, it's made by me, glad you like it!". I recently found myself with too much free time on my hands (haven't we all?) and decided to give it a try. The idea was to test my skills on something simple, like wooden boxes.   
The first step was finding the right material. I discovered it was not so easy to get all the information on the store websites, not even from the big-box companies. So, I just went to my local Home Depot and asked. It turned out that not only can they sell me the wood, but they can also do the basic cutting.
What is the trick? Apparently, it's a matter of common sense: many customers use their own vehicles for transport, and not every car is big enough to hold large pieces. It's good to have a basic idea of the final size you need, as it will help you get the service you require.
I wasn't entirely sure which type of wood I wanted, so it took me some time to just walk around the isles and observe. Finally, I decided to take some birch plywood, simply because I liked how it looks. I will admit that, although very amused, I had felt a bit out of place. I am no professional and wondering those isles had put me out of my comfort zone. As it turned out—for no reason at all.
Home Depot does provide a wood cutting service, and the best part is that it's free – as long as you don't need a large number of cuts. Most Home Depot stores will offer between 2 to 5 cuts free of charge and will charge an additional $0.25 per cut after that.  
When it's your first time using their free cutting services or are entirely new to shopping at a big-box lumber store, the process may seem intimidating. Don't feel confused; just choose what you want and drive it to the lumber section.
The cutting center is usually situated somewhere in the back of the store, with a huge, visible sign above it. You will also notice a saw table, probably set up on an '80-degree angle, for cutting 4′ x 8′ sheets. If you want a trim, there is also a do-it-yourself trim station where you can do the work or have someone from the store to help you.
Some stores feature a call button right at the saw, to call for aid that will help you cut as much as you want. If the store isn't super busy, you will get a lot of help with the possibility of no charge. It's a good idea to make a call before you go and check the situation.
Home Depot Wood Cutting Policy
Home Depot offers the courtesy service of wood cutting. That primarily applies to reduce the size of lumber and to allow customers the transport of the purchased wood in smaller vehicles. In case you need more than just a few cuts, arrangements can be made through the Contractors Sale to secure additional work with a minimal charge.
Keep in mind that Home Depot will only cut products they sell at the store.
Home Depot will also do one or two cuts of pressure-treated wood for your convenience. Additionally, it offers a table saw that you may use yourself to cut the crown molding (ask for assistance if needed).
Does Home Depot Cut Wood for Free?
That depends, as the conditions vary from store to store. The first cut is certainly free. Most stores will offer to cut between two to five pieces for free, and after they charge, on average, $0.25 per piece. But it still may happen that you don't get charged at all.
Types of Cuts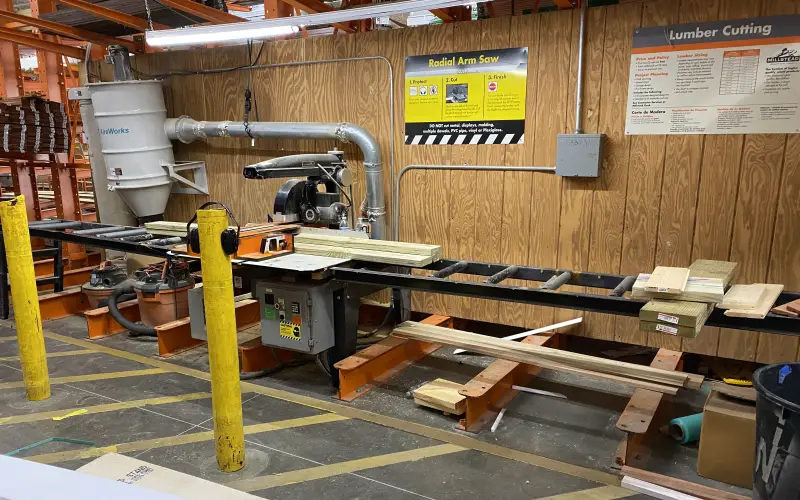 The Home Depot saws feature course cut blades to accommodate all types and sizes of wood. As a result, they deliver only rough cuts that may not be exactly in the length you desire. The first one is an arm saw which cuts boards to length, and the other is a sheet saw which makes rough cuts to plywood.
One downside of getting Home Depot wood cutting service is that you can't get angled cuts. The saws in the Building Materials department provide only a limited selection of service. The accuracy of the cuts is also not guaranteed, but that doesn't imply impossible.
The arm saw makes only straight cuts, without miters or curves.
The sheet saw can cut or rip cut long sheets of plywood, but it's not designed to make cuts smaller than 12″.
If the plywood you chose is very thin, the employee will be able to slice several boards at once. That will limit the number of cuts and let you get them all done at no cost. 
Final Thoughts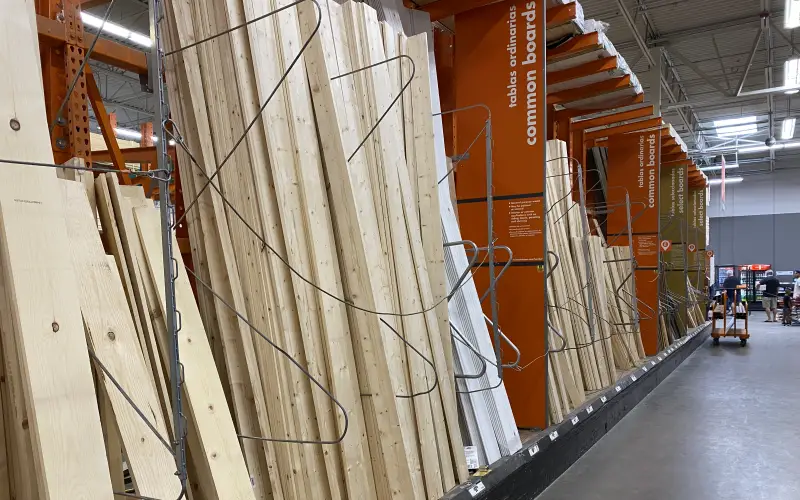 It's great to get a complimentary cutting service, but it's even greater when everything goes fast and smooth. The organization is half of the job, and timing is important. When visiting the store during a busy time, you'll probably have to wait. For the best experience, try to arrive at Home Depot after 9 am and before 3 pm. The reasons are simple: before 9 am is the busiest time for contractors, and after 3 pm, the store gets busy with after-work traffic.
Get the lumber cart, as it makes it easier to load the panel saw. The height of that particular cart is close to the height of the saw, and you can even load it yourself, with no help required. The best way to pack your plywood is by turning it face-off to the back of the machine, as this will prevent some tear-out.
Prepare your board by marking the cuts. That will remove the guesswork and the possibility of miscommunication. Ask for vertical cuts only, as the accuracy of the panel saw is generally best at this kind of cut.
And last but not least, be patient.