According to the World Integrated Trade Solution, IKEA is the top consumer of wood in the world. The company uses at least 1% of the world's total wood production each year (21 million cubic meters in 2019 or 740 million cubic feet). In recent times, the company has adopted a forest-positive policy and that means even though they'll keep using real wood, some of their products will be made out of wood alternatives. 
IKEA doesn't use real wood in all of their products. In most of today's products, the company uses compressed wood chips and other solid-wood alternatives. IKEA uses some materials instead of solid lumber, including bamboo, natural fibers, composites, and recycled products. 
When you look closely at most IKEA furniture, you will notice that the wood looks like many blocks glued together. These blocks are real natural wood chips finely ground and engineered into composites and particle boards. Read on for the different ways IKEA uses wood and alternatives in its products. 
How IKEA Uses Real Wood?
IKEA has a wide offer of solid real natural wood furniture. Some of the real wood types they use include oak, pine, acacia, beech, and birch. Some popular IKEA products made out of real wood include:
HEMNES Bookcase
BJORKSNAS Dresser
NORDEN Extendable Table
HAVSTA Wood Cabinet
TARVA Series
Applaro Outdoor Bench
IVAR Series
Additionally, as part of their sustainability management, IKEA uses irregular-looking parts of trees, such as branches found at the very top of the tree. These irregular parts make up the Norden series. 
Where Does IKEA Source Its Wood?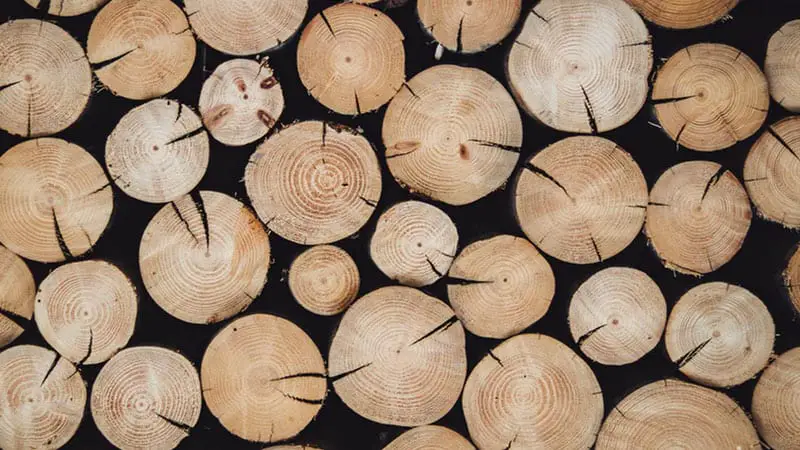 IKEA purchases their wood from over 50 countries on all continents. The top three producing countries are Poland, Russia, and Sweden. IKEA's People & Planet sustainability strategy company aims to:
Purchase 100% of its wood, paper, and cardboard from sustainable sources such as FSC-certified wood or recycled materials. 
Make 90% of their products using sustainable material with substantiated environmental improvements. 
Produce as much renewable energy as the company consumes.  
The Swedish company also buys forests in Romania, Estonia, Latvia, Lithuania, and the Baltics to control and manage sustainability issues within their supply chain. The company employs its own foresters to ensure all wood purchases come from responsibly managed forests. 
What Wood Alternatives Does IKEA Use?
Harvesting of forests comes at a huge environmental cost and has major structural drawbacks. IKEA takes steps to use solid wood alternatives in creative ways for affordable and sustainable furniture. Below are some examples of IKEA's use of solid wood alternatives. 
Recycled Wood
IKEA increasingly relies on recycled and recyclable wood for its furniture. Most of IKEA's wood supplies are certified by the Forest Stewardship Council as promoting responsible forestry. 
Aside from using recycled material, IKEA works to design and develop recyclable products at the end of their lifetime. 
According to Global Citizen, IKEA will buy back your unwanted furniture and wither recycle or resell it. You receive an IKEA voucher worth up to half the original price of the item. The company hopes that this initiative will lead to a circular economy based on sustainability. 
Scraps
Recycled materials are those that come from old products. Scraps are the leftover materials that come from creating other products. In most cases, scraps would be disposed of. To be more eco-friendly, IKEA tries to find a use for all scraps and limit waste. 
A great example of how IKEA attempts to waste less wood is by using both the light and dark parts of acacia lumber in the Skogsta product line. Carpenters historically only use dark wood. By using the white part, IKEA makes use of scraps that would have otherwise been wasted. 
Particleboards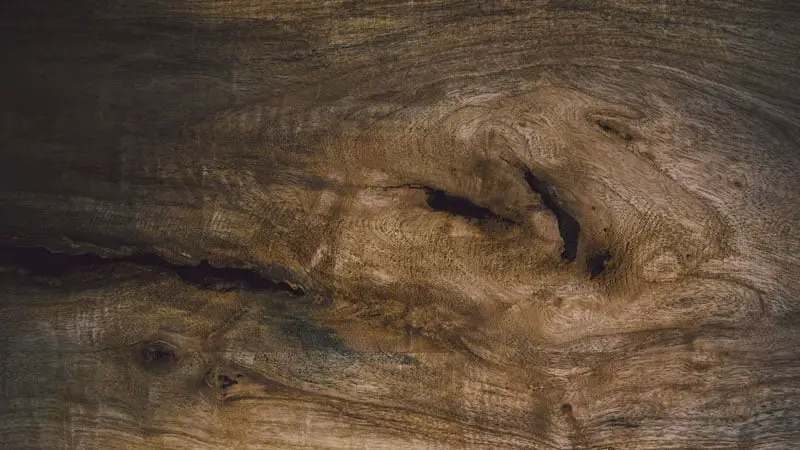 Particleboard is made by mixing sawdust that would have otherwise ended up as waste with adhesives. Unlike plywood, particleboard doesn't bow or warp. 
IKEA has been continually experimenting with different particleboard densities and types. Particleboards are commonly used for the backs of furniture items such as wardrobes and dressers. The experiments seek to use more particleboards in place of solid wood. 
For instance, IKEA has been using boards that are thicker around hinges and lighter in the middle. Such designs need less support and still maintain the aesthetic value close to that of solid lumber. 
Composites
Wood composites combine wood with recycled components. IKEA has been increasingly using wood composites such as Medium-Density Fibreboard (MDF) in its products. 
MDF is basically hardwood and softwood ground together with raisins and waxes then pressed into sheets. IKEA predominantly uses MDF to make cabinet box systems (SEKTION). 
Bamboo
Bamboo is renewable, recyclable, and durable. Bamboo has long fibers, making it a strong and flexible alternative to solid lumber. 
Bamboo is a carbon-positive plant that can grow at up to one meter per day. Similar to their work with natural fibers, IKEA works with local artisans and craftsmen, and women to develop modern weaving techniques. You can find bamboo furniture in IKEA's KNIXHULT series and SINNERLIG lamps. 
Natural Fibers
The FRIDFULL plant pot is an excellent example of how IKEA uses natural fibers not only as an alternative to wood but as a way to provide sustainable employment to craftsmen and women from across the world. 
Apart from water hyacinth, other natural fibers IKEA works with include:
Banana fibers.
Cork. 
Rattan. 
Plastic
IKEA's KUNGSBACKA line is part of their circular waste model vision. The company intends to eliminate single-use plastics in its stores. That's why they took the lead in combining recycled wood with plastics to make kitchen cabinets.
Conclusion
IKEA has embarked on a mission to rely on wood sources meeting strict environmental standards. The company aims to prevent the use of unsustainably harvested wood from being used in its supply chain. For that reason, fewer and fewer IKEA products are made out of real, natural, and solid lumbar. 
On the other hand, IKEA continues to increase its reliance on engineered wood, composites, and recycled wood. The next time you walk into IKEA, see whether you can tell the difference between solid woods and alternative materials.
For answers to the most common IKEA-related questions, you should check out our guide on the 97 most commonly asked questions about IKEA.