After a renovation or new appliance install, you can end up with missing kitchen drawers or empty spaces. You can add layers or compartments to this area to make fake drawers, but this is just one solution. So how do you cover a missing kitchen drawer?
A missing kitchen drawer can be covered up with a purely cosmetic option, or a functional one through putting in a compartment or shelf. Other solutions can involve attaching a towel rack to the remaining panel to give a place to hang items.
We'll look at the various DIY options for dealing with a missing or fake drawer. We'll consider some possibilities depending on whether you want more storage, more functionality or just want a common aesthetic.
How Do You Make a Fake Drawer Usable?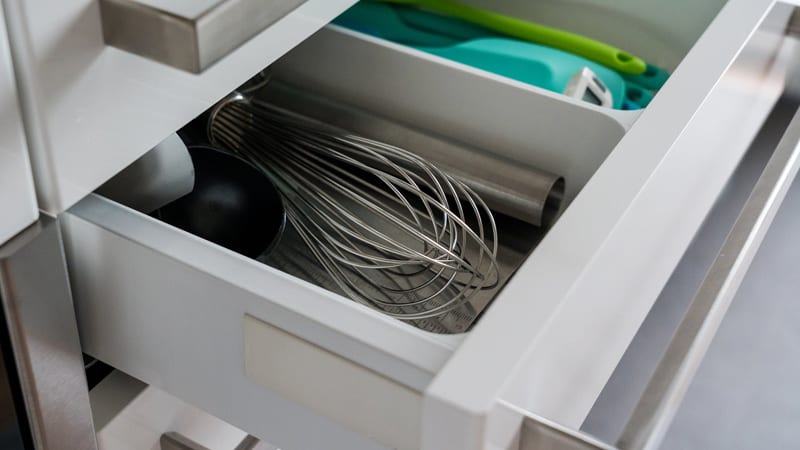 Going by location of common fake drawer locations is a great way to consider how each one can be converted.
Many people have an opportunity to include a drawer near the sink. By adding a frame to make a compartment to the lower part of the sink, you can then use that space for storing chemicals.
Instead of making a sliding drawer in the space, by designing a compartment it can act as a holder for certain objects like cutting boards or other dishes or bowls.
If you've got more of a DIY bent to you, it's possible to go ultra space-saving and convert a fake drawer to hold an ironing board. This gives you the flexibility to slide it in and out, keeping a very bulky item out of sight and out of the way until you need it.
Viewing such spaces from the front can limit creativity, as behind such fake drawers or panels are large cavities. This space should be exploited to allow the storage of large or heavy duty items.
A great example of this is getting a swinging arm attached in a fake drawer area. The Hardware Resources Appliance Lift needs room to be stored in a big enough space to fit the stiff arms, and the area under bench space behind a fake drawer would be ideal.
How To Cover a Missing Kitchen Drawer?
Often you will have missing or empty drawers in your kitchen to allow the install of a wide variety of sizes of appliances. For example, certain ovens and dishwashers can be very tall and wide, requiring extra space in a kitchen to hold it all.
Carefully measure the gaps or spaces that you want to put the facade on. If you know what type of wood was used for the surrounding drawers and doors, that would be good to use to enable consistency of feel and appearance.
Otherwise, grab some pine or plywood to make the drawer front out of. You do not have to make a drawer out of it, as storage comes in many varieties. A great alternative is to use hinges and metallic catches to create a flip door.
If you've got an affinity for electrical wiring, you can put power points behind the flip door, giving more access for appliances while also keeping aesthetics.
Another option that requires little DIY skill is to convert the gap into a paper towel holder. 
There are retractable rods that may work in this situation, but the best option is a wardrobe bracket. You can grab the Syncb Wardrobe Rod Holder off Amazon that can be drilled into the sides and a piece of 2 inch thick dowel to fit in the middle.
If you just put the wood and paint it to match, this gives a platform to attach other parts to. A towel rack can be attached via screws drilled into the wood, giving you a great place to hang a dish cloth for use in the kitchen.
Missing kitchen drawers are prime real estate to hide very large items. Bins can be put into a sliding platform that has a fake set of drawers on the front of it, especially if you wish to keep the drawer size and number consistent across a bank of drawers.
What Can I Use if I Don't Have a Drawer?
Replacement drawers can be picked up for a variety of options to replace a missing drawer. 
Amazon stocks the Rev-A-Shelf 11 Inch Tip-Out Tray that can fit into a standard drawer size with the included hinges. This gives a versatile storage option for items like brushes and plugs.
Cutlery organizers are a simple way to store and arrange a variety of kitchen goods. When combined with compact shelving, you can have a lot of efficiency in regards to the usage of limited space which is common in kitchens.
You can get a madesmart Classic Large Silverware Tray on the Amazon Basics Metal Stackable Kitchen Shelves to do the job of drawers if the current kitchen you are in has run out of drawer options.
Kitchen islands are one of the best mobile storage options for any kitchen. Not only do they provide a place for chopping and preparing food, there'll be shelving or cabinets in it as well.
Pegboards are a great storage space idea that take advantage of verticality. You can grab a 228 Piece Pegboard Hooks Assortment off Amazon to hold anything from pots to chopstick holders.
Hooks in general make a great storage option, drilling them in to the underside of a drawer or benchtop to hold things like mugs or any variety of items from the kitchen drawer like spatulas.
Storage units can also take advantage of existing appliances to maximize their storing capacity. The N-brand Magnetic Spice Rack attaches to your refrigerator, giving you an extra three tiers of shelving if you don't quite have enough drawers.