Buying new furniture is expensive. When you do buy it, you want it to remain as good as new for as long as possible. However, the armrests are always the first to perish on your sofas and armchairs, especially if you have pets. The easiest way to protect them and make them look beautiful at the same time is by making arm covers. But, how do you do it?
In order to make an arm cover for a sofa, all you need is some cloth, a thread, and a needle. Measure the size of the armrests on your sofa. Cut the cloth in the shape of the arm cover, but half an inch wider to leave some space for the seams. Stretchy materials allow for a better fit.
If you're not that good with the needle, you can always buy great arm covers for your sofa in almost any convenience store or an e-commerce website. However, if you're willing to try making them yourself, keep reading to learn everything you need to know.
What Are Sofa Arm Covers Called?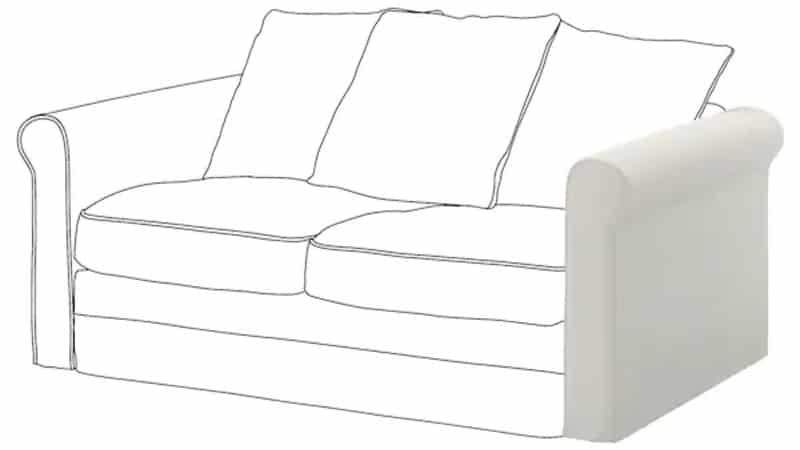 Sofa arm covers are called antimacassars. It's a common name for small cloth pieces placed on the arm covers or the backs of chairs and sofas. The name is a bit weird, but there's some fun history behind it.
In the early 19th century, men commonly used a substance called macassar oil for their hair. It was a fashionable look, but it also served a purpose in protecting the head from sunburns. That's why many sailors used it, too.
Due to oily hair and hands, women started placing small cloths on chairs and sofas to prevent them from getting dirty. The macassar oil was so popular; even theaters started placing the clothes on chairs. Soon after, the clothes were named antimacassars for obvious reasons.
As antimacassars grew in popularity, they became more and more elaborate and decorated. It became a whole thing and held on long after macassar oil went out of fashion.
Nowadays, we rarely use the term antimacassars, but we still use them. I made my first pair because my cat destroyed one armrest on my sofa. It felt rather dumb to make just one, so I made two. Now I have several, and I change them all the time. They refresh the entire room and make old furniture look new again.
How Do I Cover My Sofa Armrest?
If your furniture still serves you well but is kind of beat up, arm covers can refresh it to look as good as new again. If you don't know how to or don't want to sew them yourself, there are some great options on Amazon.
For instance, I like the Joywell Recliner Armrest Covers because they look awesome and are also quite practical, as they have several pockets for you to store your phone, pens, remote controls, or whatever you want. The fabric looks awesome, and they have them in numerous colors, ensuring you'll find the right option for you.
I also love the Reecotex Stretch Sofa Covers because you don't have to worry about the shape of your armrests. The elastic spandex looks great and fits any arm cover perfectly. They blend in with the sofa amazingly, and they also come in multiple colors.
If you dare to try it on your own, I fully encourage it. It's not hard. In fact, it's an awesome way to practice your sewing skills, as you can't really go wrong. While there are millions of designs you can try to make (from four pieces, laced, etc.), I'll explain the easiest way you can make that will look awesome.
All you need is two pieces of cloth, chalk, some thread, and a needle. One piece of cloth will cover the front side of the armrest, while the other covers the top and the sides. I suggest using an elastic fabric because it will provide a better grip on the armrest.
First, measure the width of the front side of the armrest by putting one piece of cloth over it. Cut the cloth in the same shape as the armrest front, but half an inch bigger (you need to leave some room for the seam). 
It's important to cut the width precisely. The length is unimportant; make it as long as you want. Just make sure to mark the length with chalk to measure the second piece properly and make it in the same length.
Next, cut the second cloth to a size that covers the top of the armrest and goes as far down the sides as the front cloth. All you need to do now is to sew the two pieces together.
Spread the bigger cloth and align the border of the smaller cloth with the middle of the big one. Start sewing the borders from the middle to avoid warps. Repeat the process for the second armrest, and you're done.
If you didn't cut the cloths correctly, or your material isn't stretchy, the arm covers might fall off, so you need to hold them in place somehow. You have a couple of options besides starting the process all over again.
How Do I Keep My Arm Covers in Place?
Talking from experience, your safest bet is to use elastic materials upon making the arm covers to ensure they stay in place. It's a bit harder to work with and get the size right, but it saves you from unnecessary hassle later.
If you don't have elastic materials, you can try adding velcro straps. Use self-sticking straps if you have a leather sofa. It might result in some damage to your sofa, though, but if you're making the covers to hide that the sofa is already damaged, you won't really care.
Another option you have is sewing a rubber line along the border of the arm cover. It might provide a tighter grip and prevent further movement of the arm covers. I've also tried using harder materials on the interior of the covers, and it stopped them from moving.
Namely, I used a piece of an old rug I intended to throw away. But, again, if you don't want to damage your furniture further, this isn't an ideal solution, as it causes more friction – hence, more chafing.
In the end, if the arm covers just don't fit, don't get discouraged and just try again. After all, it's fun to make them, and it's never bad to have a couple.