Have you ever looked at the somewhat awkward space usually left between kitchen cabinets and the ceiling in most kitchens and wondered if there is a purpose for it? And if so, ever thought of how you can make use of that space?
The space between kitchen cabinets and ceilings can serve a variety of purposes which include but are not excluded to: storage of certain food items, kitchen appliances, display of artifacts, decorative purposes, or better still left empty as it is!
This article will explain why those spaces around the cabinets exist and list some innovative ideas on what you can do with them. Enjoy!
Why Is There a Gap above Kitchen Cabinets?
The kitchen cabinet to ceiling gap is called "Soffit." A kitchen soffit is simply a box-like shape designed to cover up mechanical and electronic configurations like pipes and wirings or fill the gap between the top cabinets and the ceiling. Depending on the life span of your home, they may be quite large and even extend beyond the cabinets.
Whether or not the soffit is cloaked can make a kitchen look choked and feel too claustrophobic. Regrettably, removing a kitchen soffit is not always an option, so you must find other creative ways to conceal them. 
Some soffits can be four to five feet in height, serving as massive boxes that hide the home's mechanical and electronic components. Because these home components are often exposed to the elements, a kitchen soffit is also known as the interior soffit. 
Commonly, such components are found within the walls, on the exterior, or beneath the house. However, certain elements must remain inside for better access, such as water pipes and vents that spread air from the stove.
What Do You Do with the Gap Between Kitchen Cabinets and Ceilings?
If you are one of those not able to ignore the soffit, I would love to show you a list of things you can do with that space:
1. Use it to display your serving pieces
This is a great way to utilize space, and for good reasons: The soffit is perfect for seldomly used items like cake stands, big-serving boards/dishes, and a few decorative items.
2. Use canisters to conceal clutter
Closed canisters have a traditional kitchen-y feel for dry goods or random clutter. Using them is a smart way to attractively hide small odds and ends on top of the shelves.
3. Grow something
You can use the top of the cabinets to help your plants get abundant sunlight. Bonus: It's difficult to over-water something you can barely reach!
4. Wine storage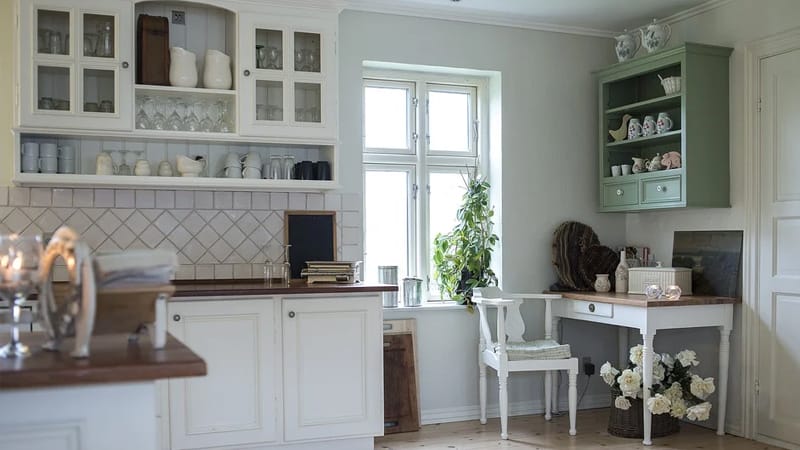 What makes this idea so brilliant is the fact that it could leave visitors guessing you don't have a wine cellar. Just stash a small-sized wine rack on top of your cabinets (this should keep the bottles from rolling away) and start stacking.
5. Display those gorgeous cookbooks
Let's be honest: For many of us kitchen lovers, having cookbooks is almost for the sheer fun of knowing you have them. So you can display them above the cabinets, like in the cute New York City apartment featured on One Kings Lane.
6. Show off your collections
If you've got a collection of figurines, fans, artifacts, or anything in between, this spot is natural for showing them off — if only because you won't need to dust up there that often. (What? It's not like it's at eye level!)
7. Decorate for the holidays
There's almost always a holiday season around the corner. Be it Christmas, Thanksgiving, Valentine's Day, or Halloween. You can use the space to give the room a more festive look. You're free to steal this idea any time of year.
8. How about Setting up some art?
Art in the kitchen can be a real piece of work. You don't want anything to get wrecked from water, grease, and other splatters. Art above your cabinets, however, will be quite safe and make a bold statement. And if you prefer to keep your kitchen decor simple, You can hang a vintage sign there.
9. Get some baskets
In addition to giving your kitchen a neutral texture, baskets do a great job at hiding the things no one needs to see.
10. Just leave the space empty
Sometimes, the most beautiful way to use a space is not to use it at all. If you don't necessarily need the storage, you can save the space until you do. Especially if you have a small kitchen, leaving some space will make the room feel airy than if it's clogged with a lot of stuff.
How Do You Fill the Gaps Between Kitchen Cabinets and Walls?
Filling the big spaces between the cabinet and the wall is not an impossible task, even when renovating your home. You can achieve that easily and effectively by using caulk and formidable foam. The formidable foam will help you fill-up the large surface area in the gaps before using the caulk to fill what's left of it.
Most people feel that filling the gaps could be challenging; nevertheless, a simple filling procedure can get your job done quickly. A better method is to pick a caulk that matches either the wall or cabinet's color. That way, it comes out neater.
Also, after filling the gaps with the plain caulk, you can decide to paint it white, as the color provides a more flawless and detailed appearance.
When filling the bigger gaps, it's crucial to begin by using expandable foam. The foam will help to lessen the surface area where you would place the caulk. Then, you can use the caulk to fill what is left of the space after getting it quite full with the expandable foam.
Now you know how to best utilize those spaces around kitchen cabinets. It's an excellent tip to consider the overall décor of your kitchen before you make any changes. Most importantly, less could be more when using kitchen space.