We all know how important a comfortable night of sleep is. Nowadays, it is very common to hear people complaining that they are not getting appropriate sleep. What you may not already know is that your bad nights of sleep might be the result of a mattress that may not offer the much-needed comfort for sleeping. This is why many people consider going for add-ons such as a mattress protector or a mattress topper. 

But isn't a mattress topper the same as a mattress protector? Well, while these two terms have often been used interchangeably, they mean different things altogether. In general, protectors serve to protect the mattress while toppers serve to provide extra comfort. In this post, we will try and uncover some of the basic differences between a mattress protector and a mattress topper. Read on and be informed.

What Is A Mattress Protector?
As the name implies, a mattress protector serves to protect your mattress. The protection is usually against all sorts of things: from dirt and stains to liquid spills, as well as allergens. Cleaning a mattress is no walk in the park, which is why you need a protector to keep the mattress clean and safe for sleeping on. 

It is this protector that you then clean when it gets dirty, or disinfect if it traps allergens. Your mattress remains untouched and will probably be in its clean and allergy-free condition for as long as the protector is on top of or around it.

What Are The Benefits Of A Mattress Protector?
First and foremost, the protector offers a waterproof layer to your mattress. This is important in two ways. First, if you happen to have spilled water or other liquid on your mattress, it remains on the mattress protector instead of getting absorbed by the mattress. Cleaning, therefore, becomes a breeze. Also, the waterproof nature of your mattress protector will come in handy in case you wish to take advantage of the manufacturer's warranty. This is for the simple reason that liquid stains on your mattress would void the warranty. 

And as we have already mentioned, mattress protectors also help protect you from allergens. Allergens such as dust mites, dead skin cells, pollen, and molds are collected by the mattress protector. Therefore, your risks of developing allergies are reduced. And if you are already allergic, you still win, as you only need to clean the protector and not the entire mattress, in order to get rid of allergens. 

Mattress protectors come in various shapes, sizes, and designs. If you are lucky enough, you might get your hands on protectors that come with additional quilting intended to offer extra comfort. Indeed, comfort is such an important feature when shopping for a mattress protector, so additional quilting should not be a luxury but rather a fundamental requirement. 

Certain mattress protectors are also lauded for their temperature control features. These are the kind of protectors designed with breathability features, intended to regulate extreme temperature conditions.

What Is A Mattress Topper?
Mattress toppers are usually purchased for extra comfort and are placed on top of your mattress. So, they generally lie between the mattress [or a mattress protector in case you have one in place], and the beddings. They come in different materials but are most commonly made out of memory foam. They come in different thicknesses, usually ranging between 1 to 4 inches, depending on the desired level of comfort. This is why many people will not think of buying additional mattress padding until the mattress is so worn out that it certainly requires one. 

However, there are now manufacturers that incorporate mattress toppers beforehand. There are pros and cons to this. First, you are likely to get the package at a relatively lower price than if you were to buy the topper on its own. However, you may not always get what you desire in terms of quality, durability, as well as aesthetic appeal. In adding toppers to mattresses, many manufacturers largely consider the aspect of comfort. Therefore, you could miss out on other benefits such as waterproofness, strength, and durability, as well as "hypo-allergenicness". This is why you are better off spending more on an extra mattress topper as long as it is customized to your demands and desires.

Mattress toppers are not to be confused with mattress pads. Pads are usually much thinner and cheaper and are usually engineered to provide more breathability. Toppers add significantly more comfort than pads.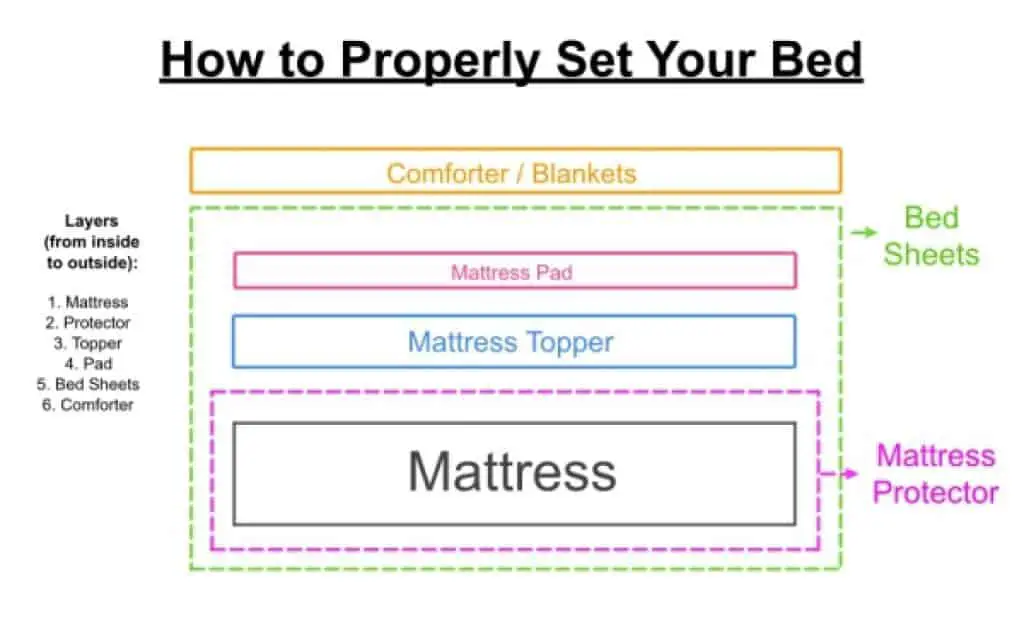 What Are The Benefits Of A Mattress Topper?
The very first benefit of mattress toppers is the amount of comfort they offer. As we have already seen, these protectors offer additional padding to your mattress. You may not always appreciate their importance until your mattress wears out. Therefore, always consider getting your mattress additional padding even if it still new. You might check out a few brands that offer new mattresses along with their topper, just be sure the topper largely satisfies your desires. 

Mattress toppers can be recommended for medical reasons. It is important to remember that many mattresses are too firm when they are new. The firmness may work for some people but other people may find it too uncomfortable, especially older people or people with certain conditions. For instance, if you suffer from a medical condition such as lower back pain, which can be caused or aggravated by old mattresses, your physician may recommend adding a topper to your mattress. Mattress padding can be considered an easier (though not 100% reliable) alternative to replacing old mattresses. If you are still unable to purchase a new mattress, you could get it some padding to boost its comfort and flexibility.

On the same note, you might consider adding them to a mattress that makes too much noise. The pad will easily help muffle any unpleasant sounds coming from your mattress. Last but not least, mattress toppers can be used in place of mattress protectors. In this case, you will need to ensure the padding comes with some of the basic features of a mattress protector, such as hypoallergenic, and waterproof. Remember, however, that mattress pads are generally more expensive than mattress protectors.

When mattresses are too firm, your partner might wake up every time you roll in bed, since there might be significant bouncing. Adding a thick mattress might reduce those effects and will allow for better sleep. 
Which Is More Ideal?
A mattress protector is a fundamental requirement while a mattress topper is more of a luxury add-on. Therefore, a protector is relatively cheaper than a topper. All the same, they play significant roles and if you can afford both, by all means, go for them. Depending on how much you spend on your topper, you might want to also treat it as a mini-mattress. Therefore, the protector should go over it, so as to ensure maximum protection from stains and allergens. 

When buying either a mattress protector or a mattress topper, there are basic things to look out for. Key characteristics you should look for are:

The right size that fits your mattress
Waterproofness
Durability
Breathability
Material
Protection from allergens
Price
Brand
Warranty
A simple online search can help you with that. But if you are unable to find a reputable mattress protector or topper brand, insist in the store where you purchased your mattress. Their recommendations will be very useful in this case.