Air mattresses can be an attractive option when you're looking to upgrade your bed. They're generally a lot cheaper than foam or spring mattresses, are portable and could be the solution to your back pain. But once you've bought one and it doesn't work out, there are still options for returns but they are limited. So what do you need to know about returning your air mattress to Walmart?
With Walmart, air mattresses can be returned for a full refund only if unopened and unused after 90 days. If opened or used, the 90 day period still applies but the best you can get is an exchange.
Air mattresses have very specific refund and return policies and you must be careful before your purchase. I'll take you through some common vendors and their rules as well as some tips to get the most out of your air mattress.
What is Walmart's Return Policy on Mattresses?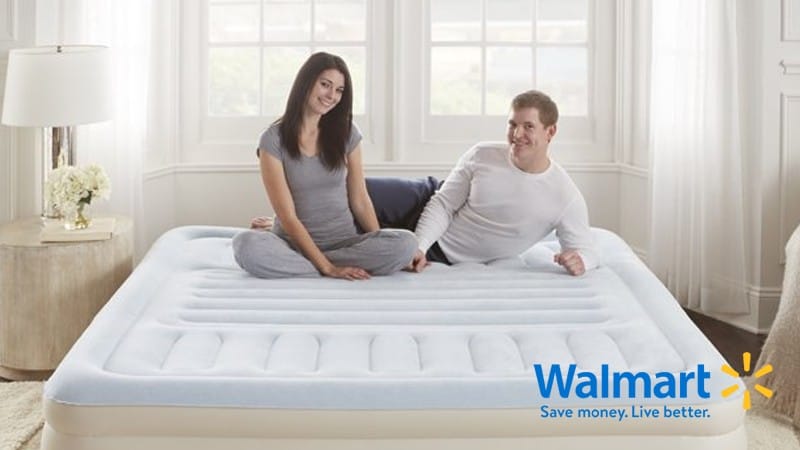 Walmart's standard return policy applies. Their website states that you have 90 days after purchase to exchange or return unless noted in the exceptions. There are further special conditions for air mattresses, if opened or used it can be exchanged for similar within 90 days. If new or unused, you can take advantage of a full refund.
You can return items in-store, for free by mail, or via a scheduled pickup from your home. Keeping your in-store receipt or Walmart.com order number will enable a smooth exchange process. The original packaging should be kept for up to 90 days.
For returns or returns in the end the decisions are up to the Store Manager of each location. Even providing proof of purchase is not enough to guarantee returns or exchange.
Can You Return an Opened Air Mattress to Walmart?
Yes, within 90 days. Whether used or not, an opened box with proof of purchase can only be eligible for a return and equivalent exchange. Full refunds are only for unused and unopened air mattresses.
Due to air mattresses' limited warranty, this flows through to a very limited return period, generally less than 90 days. This will not cover leaks, punctures, and even bubbles or bulges in air mattresses if they came from mattress use.
Can You Return a Used Mattress to Walmart?
A used mattress can be returned to Walmart but there is a 90 day limit from the date of purchase. The best you will get is an exchange as refunds are only available for unopened and unused air mattresses.
Be aware that the Store Managers can choose to decline to accept returns and refunds so use your best discretion when considering this process.
Can You Return an Air Mattress Without a Box to Walmart?
At a minimum, you need to present a record of purchase to Walmart to take advantage of their return policy. The easiest way is via providing the receipt or online order number. Walmart would prefer the original packaging as well but as long as you can provide proof of purchase it is not necessary.
Walmarts can look up your order if provided with the original purchasing card or similar information. Knowing approximate purchase time can help narrow the search but the easiest way is just to keep records, such as taking a photo of the receipt and adding to some online photo storage like Google Drive or Dropbox in a folder titled receipts. I immediately take a photo of all receipts for products worth over $100 and store them in such a folder.
What is the Return Policy Like at Other Stores?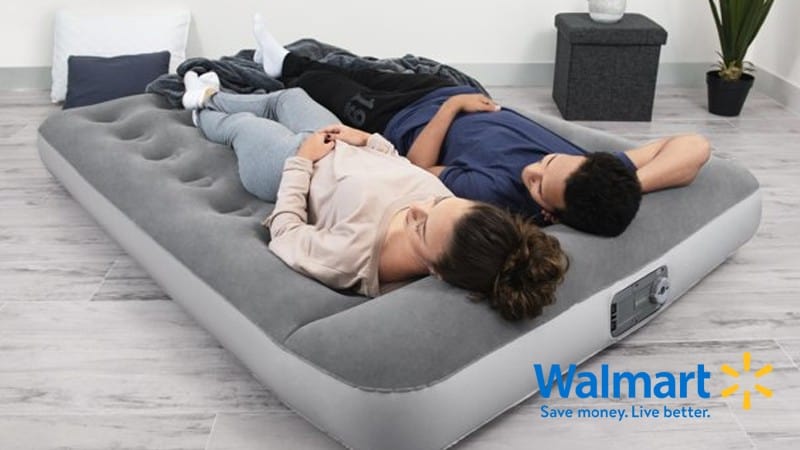 Air mattresses by their design are not meant for constant daily use that can go on for weeks, months, or years. If that's what you're looking for, purchasing a non-air mattress is your best bet. Even the most expensive brands and high-quality construction air mattresses are not guaranteed for this type of usage and therefore returns and refunds are not much better.
If a person needs a sleeping solution for longer than two months of daily use, manufacturers agree that choosing a traditional bed or futon would better suit your needs.
Famous around the world for their return policy, Costco offers full refunds on almost any product with no real-time limit. Unlike Walmart, you don't need to provide much to process the refund and it can be done at any location as it all goes through the Costco membership card.
Other specialty mattress stores tend to offer limited return policies with air mattresses. Once an air mattress has been used, there is generally no refund available and at most, you can do an exchange with a similar product. Certain air mattress manufacturers offer trial periods ranging from 7-30 days, within which you can get a full refund but exchange thereafter. If you have purchased online, you may also need to pay for return shipping.
Amazon has differing policies depending on whether you bought from Amazon directly or via a 3rd party seller. Mattresses are eligible for return or refund for any reason within 100 days of receipt of shipment for direct Amazon purchases. The mattresses must be unopened and in their original packaging.
Unboxed, expanded, and full-size mattresses are not returnable but are eligible for a refund.
Bed Bath and Beyond offer full refunds for new and unopened air mattresses only. The time limit is within 90 days of purchase. Opened air mattresses may be exchanged for a similar item only within 60 days of purchase. Bed Bath and Beyond can process returns without a receipt but it is best if you have one, as purchases can be looked up generally only within the last year and you may only get a store credit rather than a return.