Gray is a popular choice for interior decor backgrounds, and for good reason. It is such a versatile color and pairs well with a multitude of other colors. With gray walls, you have almost infinite choices with your furniture colors to bring life to a room. 
Brown is a leading favorite couch color to pair with gray walls. White and blue add sophistication. Red and yellow are great for adding personality and color.
This article explores how different couch colors pair up with gray walls. Read on to uncover what to look for in your perfect couch to gray wall match-up. 
Why Is Brown Color Most Popular With Gray Walls?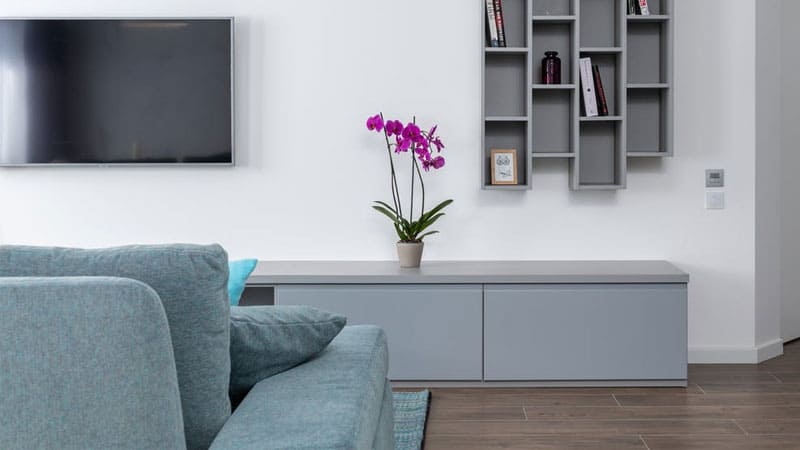 Brown and gray are both neutral colors and often blend well together.  In wild nature, a gray sky can bring character to a setting while brown colors would add warmth. In indoor settings, gray can add sophistication and dominant strength while brown can add some warmth and a hint of gentle personality.  
There are several reasons why brown couches are the most popular for pairing with gray walls.
Contrast and Balance
Gray and brown are earthy colors that seem to dance around each other. Gray is the dark mysterious side while brown is the warm inviting side.  
A gray wall represents a solid foundation and a sophisticated background. The brown couch signifies warmth and inviting comfort.  Since both gray and brown are popular colors, you can easily extend this color scheme to other room accessories.  
For example, you may add a few gray rugs to complement the brown couch fabric or incorporate some light mocha to bring in a feminine touch to the room. 
Shades and Hues
It's true that there are over 50 shades of gray. There are grays that border on silver and charcoal grays that could be confused for black. 
You have shades of gray to cover almost any mood or temperament you may think of. There are cool hues and warm grays. There are blue-tinged grays and brownish grays. 
Similarly, brown colors are almost as versatile as gray. Brown colors are reminiscent of nature. The different brown hues speak of longevity, balance, nature, safety, and respectability. Brown comes in a number of popular hues and shades. 
For instance, you may pair your gray wall with a tan, beige, or mocha couch. You can easily switch up the décor of a room by changing shades of brown and gray without changing the color scheme.
For example, you could introduce accessories of the same color but different hues to change the mood. A light beige throw rug can offset the dullness of a tan sofa. A silver desk lamp can light up a somber dark gray wall. 
Perfect Backdrop
White and black are such stark colors even though they're essentially neutral colors. Gray, on the other hand, is a soothing neutral that offers the perfect backdrop to showcase accent colors.  When working with a gray wall and brown couch pairing, these two colors can act as backdrops for other supporting colors in the room. 
For instance, the brown couch and gray wall can act as the silent backdrop to a magnificently woven Persian rug. 
Matching with Metal
Your room décor isn't complete without incorporating metal accessories and light fixtures. Metal parts come in a wide array of gray and brown. For example, you may include some warm brass fixtures and a shiny gold centerpiece. Maybe you may want to add a silver set to the water cooler or some brown metallic pots for your indoor plants. 
Whatever the case, metallic accessories blend well against a gray wall and brown couch combination. The brown couch adds an earthy balance while the gray offers a touch of subtle sophistication.
What Color Furniture Goes With Gray Walls?
Your room and decor are a reflection of your personality. As such, there are no clear rules as to how you should decorate your space. However, here are a few factors you might want to consider when choosing the right couch to pair with your gray wall. Some of the most popular couch colors that work great with gray walls include:
White
Would you like to add a burst of light color and a classic clean look to your space? Then a white couch is the perfect furniture piece to pair with your gray wall. The white color creates a sharp contrast to the gray, making your seating area the focus of your space. You can use the areas around your white couch as accent zones for your decorative pieces. 
Gray
Gray on gray is the simplest monochromatic décor style, but it's never easy to pull it off correctly.  Done skillfully, you can use different tints, hues, textures, and shades of gray to great effect. Done poorly, the room could look like one uninteresting sterile room full of dark shadows. 
Avoid using similar tones and textures for the couch fabric and the walls. Go for contrasting hues such as an off-gray like Xanadu for the couch and a much darker tone like Davy's gray for the walls. 
Blue 
A blue couch can be an excellent accent piece against your gray wall background. Blue is sophisticated and versatile. With a wide range of blue tones, you have ample options for expressing your unique personality. For instance, a deep tone like Navy blue could express masculinity while turquoise could lean towards femininity. 
Yellow
Add a splash of color to your gray space by fitting in a yellow couch. Yellow adds a warm glow and pulls your eye to that section. A yellow couch can also add an expansive look to your room. 
Red
Red can liven up a gray-walled room and create fantastic contrast. Red expresses energy while the gray wall counterbalances with a solid structure. Gray is so strict and rigid while the red speaks of playfulness and adventure. 
What Colors Go Well With Light Gray?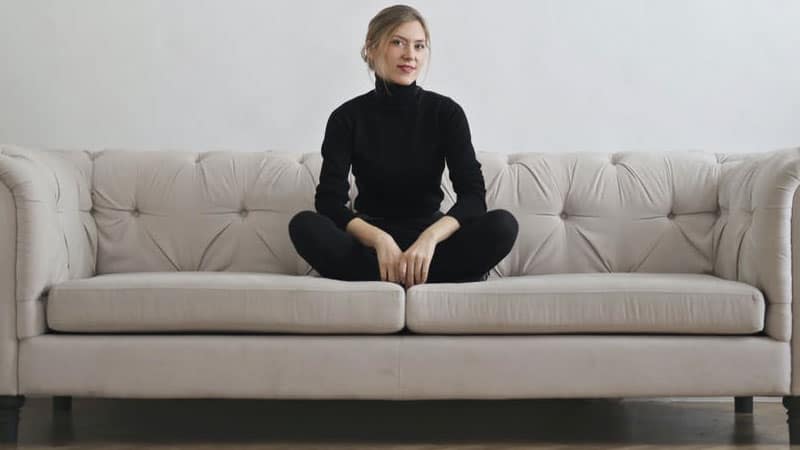 Light gray walls can lack some character and so they pair better with accent furniture. Some of the colors for couches that would pair well with a gray wall include:
Dusty Pink
Muted colors like dusty pink add a feel of adventure and personality without overwhelming the senses.
Cobalt Blue
Cobalt is a nice blue hue that speaks of modernization and sophistication. 
Brilliant White
For smaller rooms, add some light and expansiveness with a brilliant white couch. 
What Colors Go Well With Dark Gray?
Darker shades of gray can pair well with stronger, more vibrant couch colors. 
Magenta
Make a bold statement with your couch as an accent piece by pairing a bright magenta with a dark gray wall. 
Sage Green
Add a touch of nature and subdued sophistication with a sage green sofa. It can brighten up the room without becoming the focus of attention. Great for when you have other accent pieces. 
Gold
Add a touch of class and warmth with a gold-colored couch. Gold is rich and brazen. It exudes confidence and adds a sense of adventure. 
Last Words
Gray walls are becoming more popular each year. Even though room design is a matter of personal style and preference, there are some go-to colors that can bring out your room needs with great effect. Explore the many shades of gray walls and how you can pair them with a multitude of couch color choices.