You can finally afford to move into your own space, but there's so much to consider when you want to figure out what kind of apartment is right for you. Should it be a studio or a one-bedroom apartment? If you have decided on purchasing a studio apartment but aren't sure why it's so expensive, then I'll help you consider why these apartments' prices can be so high.  
Studio apartments can be expensive because of their location, amenities, size, and proximity to surrounding businesses. When considering purchasing a studio apartment, these factors need to be considered to determine if the price is reasonable for you.
Continue reading to find out what is a good price for a studio apartment and whether studios are more expensive than one-bedroom apartments. I will also help you determine whether purchasing a studio apartment is worth it and reasons you might find that some studios are even more expensive than studio apartments. 
What Is A Good Price For A Studio Apartment?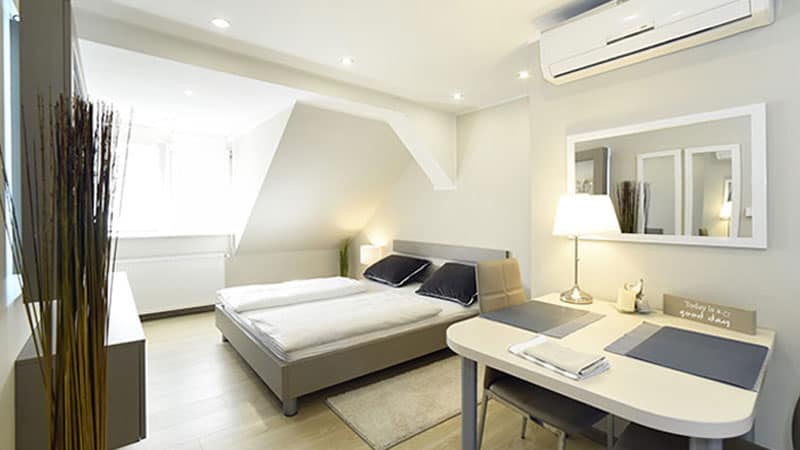 The determination of a good price for a studio apartment depends on several factors. A good price in New York City might not be a good price in Florida. You have several factors to consider when considering if a studio apartment is a good price, and it's not just the size of it that matters. 
Some of these factors are:
Location
As I said before, the reasonableness of a studio apartment's price depends on where the studio apartment is located. You will find that apartments in a city where demand for a space to live is high will fit a taller bill than if your potential apartment was in the suburbs. 
For instance, if you wanted to stay in Manhattan, New York, as I mentioned before, then the average price you would pay for an apartment is $439,000, while a studio apartment may cost around $20,000 in places like Baltimore. 
Amenities
Another factor determining whether an apartment is reasonably priced is the amenities that may come with the studio apartment. You should expect a higher price for places with more amenities. Some amenities that may rack up the cost of a studio apartment include:
Facilities such as pool access
A fitness center
Air conditioning 
Patio or balcony space
View from the apartment windows.
Many other amenities can determine the cost of your studio apartment, so when you're thinking about whether one is reasonable, you also need to think about what you will be getting for your money. Much like a car with more bells and whistles than a regular car, it's not unusual that you will have to pay based on the amount of convenience the item gives you. 
Proximity
Speaking of convenience, how conveniently you're able to access nearby places of school and business will also determine how reasonably priced your apartment is. You will often find that higher-priced apartments will list that the property is conveniently located near places such as banks, schools, supermarkets, and other places of business. 
Yes, you're paying for the convenience of not having to take a bus, a plane, and a boat every time you need to make a deposit at the bank or pick up your child from school.
Are Studios More Expensive Than Apartments?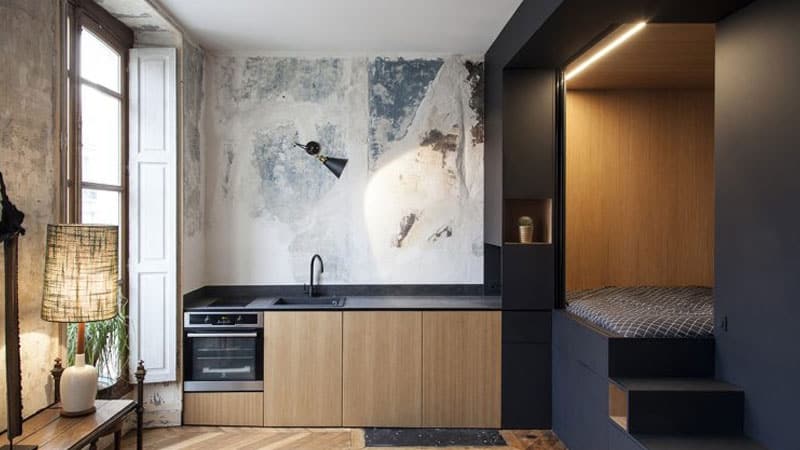 If we're talking about studios and apartments in the same region with similar amenities, it is most likely that an apartment will be more expensive than purchasing a studio. 
Apartments give you the extra convenience of separating your living space from your bedroom, giving you more privacy and, more times than not, more space than if you were to live in a studio. It, therefore, follows that it will be more expensive to purchase an apartment than it would be if you purchased a studio. 
To take us back to our Manhattan, New York scenario, we already discovered that you should expect to pay around $439,000 if you wanted to purchase a one-bedroom apartment in the same area you should expect to spend anywhere between $575,000 and $850,000, more or less depending on where in Manhattan you are considering. 
There are, however exceptions where studios do end up being more expensive than one-bedroom apartments. We will talk more about that later. 
Is It Worth Buying A Studio Apartment?
This question also depends on you. If you're hoping to pack a five-member family into a studio apartment, then a studio may not be the best purchase. Even if you're planning to move in by yourself, you need to consider what you plan to do with your apartment to expand your family or move to another city. 
If you properly consider the different things in life that may change your convenience of owning a studio apartment, a studio apartment may be worth the purchase. 
Why Do Studios Cost More Than One Bedroom Apartments
Instances where studios can cost more than a one-bedroom apartment may happen based on the amenities, location, and finishes of a studio which may be more convenient than a similar one-bedroom apartment. 
Consider as well that a studio apartment isn't necessarily smaller than a one-bedroom. Some studios may be more spacious than a one-bedroom. Studios can even be larger than the size of two-bedroom apartments. 
So you can consider this when you're considering which is better for you. If you like the idea of renting a studio but aren't too crazy about living in a cramped space, you can consider purchasing a larger studio apartment within your budget. 
Conclusion
There's no concrete answer when it comes to purchasing a space to live. Based on what you can afford, you have various factors to consider when reasoning whether you should purchase that studio apartment.