Fabric selection is, no doubt, one of the most important things to consider when shopping for new pieces of furniture for your home. Unfortunately, this isn't an easy thing to do, as there are lots of options out there.
In case you don't know, choosing the right upholstery fabric for your furniture is not just about having enough budget. In addition to these factors, you also need to consider the exact type you're going for. For instance; are you going for a modern or classic style, detachable or fixed vision, and a few others?
There are lots of benefits attached to using upholstery fabrics for your chairs. The materials are durable, versatile, reliable, and very easy to maintain. Apart from upholstery, other fabrics that you can use for your chair include vintage curtains, thick felt blankets, and knitted wool.
Is it possible to use normal fabrics for upholstery? Do you have to use upholstery fabric for your chair? What are the best fabrics for covering chairs? You'll find answers to these frequently asked questions and a few others as you read through the rest of this article.
Can You Use Normal Fabric For Upholstery?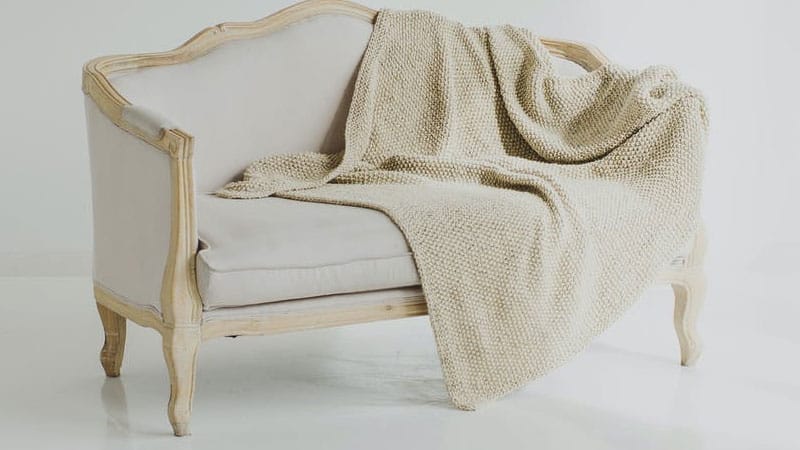 Is it possible to use normal fabric as upholstery? Let me start by talking about what upholstery means.
For those who don't know; upholstery is the materials that are used to manufacture the soft coverings of furniture, such as chairs and sofas. Examples of upholstery are fabric, padding, webbing, and springs.
When it comes to choosing upholstery fabrics, there are a lot of things to consider. For instance, the material you're planning to use as upholstery has to be heavier, thicker, and stiffer.
Furthermore, there are several different types of upholstery fabrics out there. Some of them are Plush, Velour, Jacquard, Chenille, Alcantara, Artificial Leather, Microfiber, cotton, and Flock.
Plush is soft and fluffy upholstery fabric. It's very pleasant to touch and pretty much easy to maintain for a long time.
Just like plush, Velour is also soft and fluffy to touch. It's highly resistant to abrasion, which is why it's perfect for making furniture upholstery.
Cotton is known to be a natural fiber. The fabric is perfect for upholstery because it's breathable and abrasion-resistant.
Jacquard is a perfect type of upholstery fabric. They are known for their intricate wooden design, quality, and weight.
Microfiber is an ultra-soft polyester fabric. It's perfect for furniture upholstery because it's designed to resist stains. Furthermore, microfiber is durable and water-resistant.
Chenille is a soft upholstery fabric that can easily be cleaned when used on chairs.
Alcantara is a type of upholstery fabric that's commonly used for the interiors of racing cars. The material is synthetic suede.
Flock is a great choice for furniture upholstery because it's pretty strong. Apart from that, the fabric also repels moisture easily.
Now, let's go back and address the burning question regarding whether or not normal fabrics can be used as upholstery. The answer is yes; you can always use normal fabrics for upholstery. 
However, you need to understand that it's not all normal fabrics that can be used for upholstery. Since that's the fact, there are a few things that you need to keep in mind when selecting them for upholstery.
For instance, the normal fabric you'll be choosing should be made up of natural fiber & synthetic fiber, or a combination of the two materials. That's not all; the normal fabric you'll be choosing for upholstery needs to be abrasion-resistant, aesthetic, and easy to maintain. Some good examples of normal fabrics that you can use for upholstery are cotton, linen, silk, rayon, acrylic, olefin, and polyester.
Do You Have To Use Upholstery Fabric For Chairs?
Upholstery fabrics are a great choice for chairs and sofas because of their characteristics. For instance, they are abrasion-resistant materials, meaning that they are capable of resisting wear when used to manufacture furniture.
Furthermore, upholstery fabrics are aesthetic, breathable, and pretty much easier to maintain than other types of fabrics. This explains why many people prefer to use upholstery fabrics to manufacture chairs, sofas, and other pieces of furniture.
However, it's worth noting that there are a couple of other fabrics out there that you can use instead of upholstery for chairs and sofas. Yes, you don't have to use upholstery fabrics every time for chairs.
Other fabrics that you can consider using as alternatives for upholstery fabrics are vintage curtains, thick felt blankets, denim, and knitted wool.
What Fabrics Should I Use To Cover Chairs?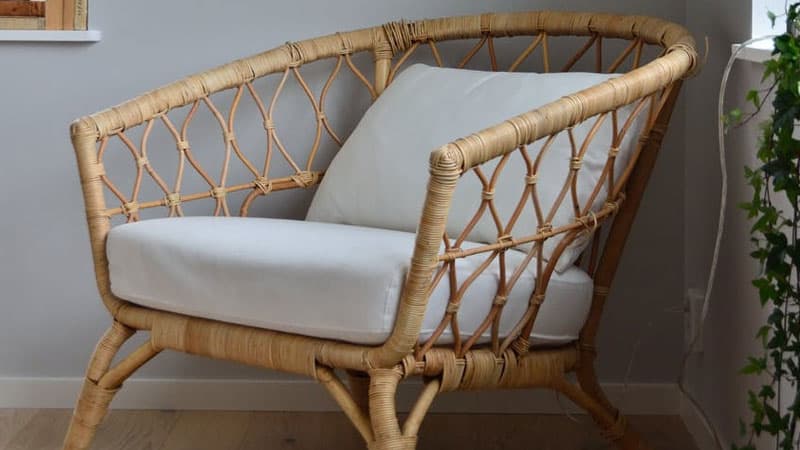 When choosing the right upholstery fabrics to cover chairs, there are a lot of factors to put into consideration.
First, you need to be sure that the material you're planning to use is durable. One of the few ways to determine the durability of fabrics is by checking how they rate on the double rub test administered by the manufacturer. Other factors to consider when choosing the right fabrics for covering chairs are the fabric types and care.
Speaking of fabric types; there are a lot of them that you can choose for chairs. I already mentioned some of them in the previous section of this post. But for clarity's sake, let me list them according to their categories.
Fibers for upholstery furniture include cotton, linen, wool, silk, rayon, nylon, polyester, olefin, and acrylic.
Chenille
Velvet
Basketweave
Jacquard
Duck/canvas
How To Choose Upholstery Fabric For Dining Chairs
When it comes to setting up the dining room chairs, one thing is important and that is – you should make sure they are visually appealing enough for your guest. The right upholstery fabric for your dining room should be durable, abrasion-resistant, easy to clean & maintain, and stain-resistant.
Some of the best upholstery fabrics that you can consider choosing for your dining chairs include cotton blend, velvet, tweed, faux suede, leather, and vinyl.