Have you ever dreamed of a place where you can go early in the morning when your eyes and brains are still in between dreams and sip coffee before you begin your day? Then you need a breakfast nook, a small, secluded dining area you can set apart from the rest of the living or kitchen room. But does having a breakfast nook add value to your home?
With its charm and counter space, a breakfast nook is an incredible addition to your home and will increase its value. That's because much of what buyers look for centers around the kitchen. So, if they can imagine themselves getting cozy in the nook, chances are that they'll remember and value your home more.
Read on to learn how a breakfast nook can add value to your home and how much it can cost you to add one.
What Is the Point of a Breakfast Nook?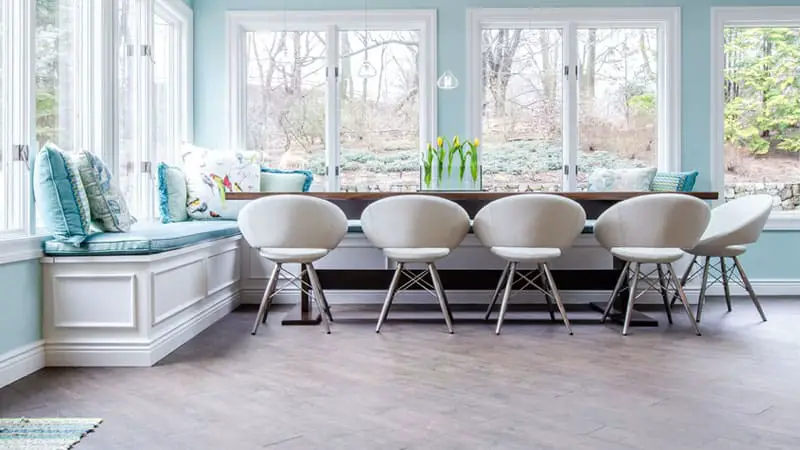 The nooks offer an informal eating area for families. They can also be convenient alternatives to having your kids eating in the fancier dining room with chairs and tables that are difficult to clean. Besides, the nook keeps your little ones within your view when you're working on something in the kitchen.
A well-planned custom breakfast nook offers efficient use of space by supplementing the kitchen counter space. Even if you have a large island, you can benefit from more countertop areas. From food prep, cooking to extra seating, a breakfast nook offers more space options.
Breakfast nooks are created to be inviting and warm. With natural light sources coupled with dimmable lighting fixtures, the nook provides a cozy space for recreation or to enjoy some quality family time.
How Will the Breakfast Nook Be Used?
Since a breakfast nook has a more relaxed and intimate atmosphere, it's typically reserved for lighter meals. However, while it has breakfast in the name, it doesn't necessarily mean you'll be using it only at the start of the day.
Modern breakfast nooks are used for various activities, including playing board games, reading, doing homework, art and crafts, and DIY (some people even eat dinner there). You might also start gravitating towards the nook to sort through the week's mails or complete your monthly bill of payments.
How Much Will It Cost to Add a Breakfast Nook?
It doesn't take much to turn that small space into a fantastic breakfast nook. Nevertheless, the cost can vary based on the materials used, the number of benches, and other add-ons. A small nook can average approximately $1,500. The cost of large nooks can average about $5000-$8000 or more.
How Big Should a Breakfast Nook Be?
To determine the right size of your breakfast nook, you should consider how big your kitchen is and the number of people you expect to be using the nook regularly. The ideal size for most nooks measures 7' x 7'. Anything smaller than 5' x 5' will make the space feel cramped. You can also opt for 7' by 10' if your furniture is bigger.
Are Breakfast Nooks Practical?
The practicality of a breakfast nook depends on your personal preference and available space. If you have room, a breakfast nook is a practical solution as it results in a separate seating space that allows your household to gather and enjoy some quality time.  
What's The Best Location for A Breakfast Nook?
Conventionally, a breakfast nook is an ideal addition to the kitchen. So, have it close to your kitchen (or on the same floor)- you don't want to slosh hot coffee on the carpet as you stroll up and down the stairs. It also fits when connected to a formal dining area, or you can pin it between the two (dining and kitchen) for easy access.
However, in the era of extreme personalization, you can place your nook wherever you want. Just ensure it's close to a window that offers plenty of indirect morning sunlight. Remember, the abundance of natural light distinguishes a breakfast nook and a dining room (besides size). Besides, the windows will allow you to view the outdoors and prevent the space from feeling too cramped.
How Do You Create a Beautiful Breakfast Nook That Adds Value to Your Home?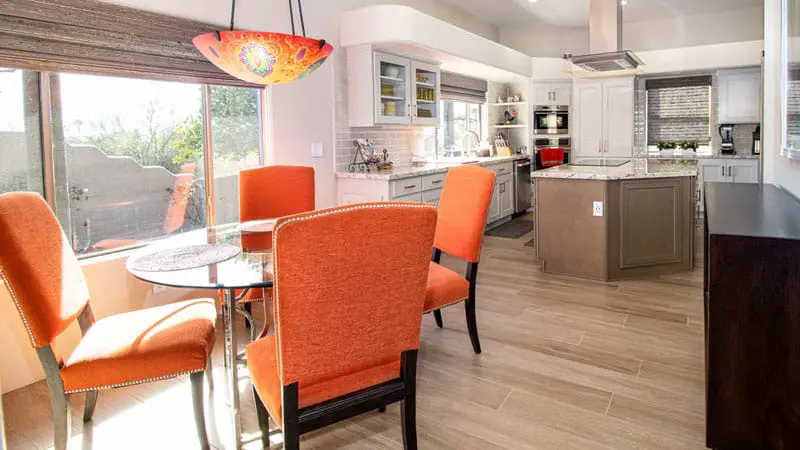 When your home doesn't have a built-in breakfast nook, you can create the feeling of one by integrating a table and chairs in the corner of your living or kitchen room. Moreover, you can optimize your space by transforming that awkward alcove into a useable area.
Typically, nook usually paints the idea of something cozy and constrained in layout or proportion. But, when it comes to modern breakfast nooks, that doesn't have to be the case. Instead, you can design it to be an inviting and open space, which offers quick access when you have to grab a bite when on the go.
With creativity and ingenuity, you can easily create a breakfast nook that's versatile. First, however, you should avoid dark, heavy window coverings or windows. Instead, use minimal covers to allow natural light to flow and ensure the breakfast nook is brightening. You can also add a well-planned mirror to reflect light. 
 Moreover, you can create a lovely nook by choosing a low, cushioned bench or comfortable couch and synchronizing it with a table to balance the area. Add colorful throw pillows to improve the nook's appeal and reveal your style and taste.  
Consider painting neutral-colored or white hues to harmonize the space and add a soothing backdrop for brightly colored accessories and dark furniture. Also, you can paint the kitchen and breakfast nook walls the same color to create a feeling of unity between the two rooms.
Can Breakfast Nook Be Used for Added Storage?
There has been an emphasis on decluttering spaces to add value to your home. Adding benches with storage or cabinets and shelving around the nook can make a difference in the house. You can also consider open shelving to easily display kitchen utensils and cherished trinkets while still including extra storage.