I just finished installing my new PAX wardrobes and was admiring my handwork when I noticed the holes. Of course, they are difficult to ignore as they are an integral part of mounting any IKEA cabinet or wardrobe. So how do you cover these IKEA PAX holes?
You can use the Variera cover plate to cover IKEA PAX holes. They have several colors to match the surrounding of your cabinet or wardrobe. You only need to push the cover plate into the hole, and friction holds it in.
Covering PAX holes is the easy part of assembling any IKEA PAX wardrobe. I shall further discuss the hole size and the best way to make them less visible.
What Size Are IKEA PAX Shelf Holes?
If you are not going to construct a cabinet of your own, you'll probably want to go for an IKEA PAX cabinet. They are not only cheap, but they are also easy to assemble, provided that you know how!
However, you'll find that these ready-made cabinets have several holes, all the same size and neatly arranged. The holes allow you to fit them easily without having to drill any. Of course, if you feel the need to make holes where there aren't, you can.
But, you would want to create these new holes to be identical to those present on your cabinet. To do that, you should know the size of the IKEA PAX holes.
IKEA PAX holes are almost 32 mm. This size makes them quite visible but easy to fit screws when assembling.
How Do You Cover IKEA PAX Holes?
After coupling the frame of your cabinet or wardrobe, it becomes impossible to ignore these holes. IKEA PAX holes undoubtedly make it easy for you to couple your furnishing without drilling any holes. But they can make your work look a little untidy when you're done.
They're not bad, but they're better when they are not left out in the open. Besides, there are effortless ways to cover up these holes, so why not give it a try?
The best product for the job is the Variera cover plate, small white pins packed in small bags. You can find them in any kitchen department of stores where they sell kitchen accessories. They are also cheap, ranging from $1 to $1.5 for one hundred cover plates.
You can buy enough bags for them to be sufficient. It's not compulsory to cover every hole, but it's advisable to do so if you want a cleaner finish. But, before you set out for this task, ensure you have everything in place so that you don't have to start removing the cover plates to accommodate something else.
Variera plates are connected by small cords that you are supposed to cut off. You can take your time to separate each of these plates till they're single, then begin using them to cover the holes. You can push them in with your fingers or use an instrument with a soft backing.
But, you'll save time if you align these plates along the holes. You can use a plier to cut off the cords as you go while using the padded part of the pliers to push the covers into the holes.
Do You Use Plastic Hole Cover Caps for PAX Holes?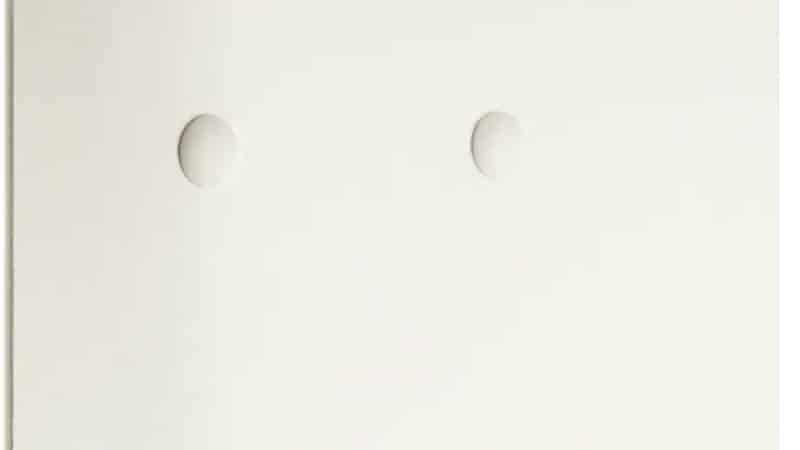 Variera cover plates which IKEA recommends for filling PAX holes are made from special polyethylene or PE. This is a durable and versatile plastic that you can use for multiple purposes. IKEA utilizes PE for several plastic products such as ice packs, chopping boards, plastic bags, and freezer bags.
The primary reason for using this plastic for production is its recyclable nature. You can make these plastics from raw materials like sugar cane and corn, making them environmentally friendly.
What If I Cannot Get a Variera Cover Plate?
If you cannot find a Variera cover plate in a regular store, you'll have to make your way down to the nearest IKEA store. Sometimes, IKEA stores might be several kilometers away, and you would not want to waste so much time going that far for a few plates.
Fortunately, there are other Do-It-Yourself options that you can use to fill up these holes. Like Variera plates, they are cheap, easy to use, and less time-consuming. One of these methods is the use of spackling.
What Is Spackling?
Spackle is a powdery substance that you mix with water to form a paste. You can use the mixture to fill holes and cracks in woods, wallboards, and any other cracked place. They first came into the market in 1927 but were trademarked in 1928.
Since then, they have become a household name and popular filler. You can also use this paste to fill up the holes in your IKEA furnishing. I shall explain how to go about this below.
How to Use Spackling to Fill IKEA PAX Holes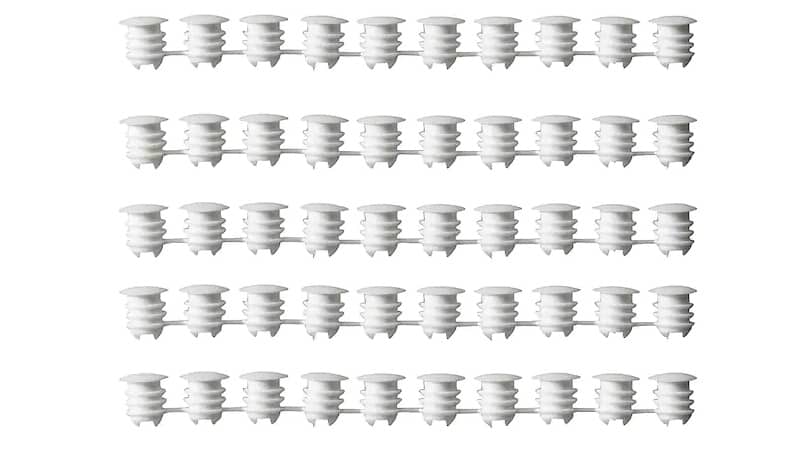 As I mentioned earlier, basic spackling is cost-effective and easy to use. You'll need to get your spackle which you can find in most stores. Once you have enough, mix in water to form a paste.
Before applying the spackling, ensure that you have your furniture the way you want it to be. This would prevent any eventuality of filling the wrong hole. In other words, you should have completely set up your cabinet, wardrobe, bookcase, or any other furniture of choice.
You can use a little plastic knife to apply the spackling on the hole's surface. However, I recommend using your finger as it saves more time. Once you have applied the spackling, wipe the sides of the hole with a damp towel to make them look neat
If you have no paper towels around, wipe the excess with your finger and wash it off afterward. Leave the spackling to dry.
Some spackling could be different when wet but turns white when fully dry. If you intend to paint your furniture after setting it up, you should apply the spackling first.
This method is also better than cover plates as they also work perfectly for bookshelves and other furniture.