When you are first furnishing a home, you will find that couches are one of the hardest purchases. Usually, most of the time we are home is spent sitting on the couch, watching TV. So it only makes sense that you choose a comfy, good looking couch. The problem is when you start looking at the prices of the couches you want, and the only way you can afford them is if you sell one (or maybe both) of your kidneys. After a slight moment of desperation, you remember that buying a used couch could be a good alternative.

You gotta admit though, it is kind of weird buying a couch in which random strangers would sit all day. At least that's what I used to think. Still, I decided to give it a shot – and now I believe that everyone who likes to save a few bucks should DEFINITELY buy a used couch. I'll explain why and tell you about my experience, but I want to start by answering a very important question.
How much should you sell or buy a used couch for? Normally, used couch prices will depend on where you live, but you can usually buy good, used couches somewhere between $30 and $200. You should definitely NOT pay more than $200. Smaller couches will be in the lower end of that spectrum ($30 – $100), while sectionals and bigger couches will lie in the higher end ($100 – $200).
Below, you'll find a quick guide on how to get the best deal for a used couch.
Average Price of New Couches

First things first, I just want to show you how much a new couch usually costs, and you'll see why it might make sense to buy it used. I've looked at the most affordable and popular stores, and I tried to find their most affordable couches and sectionals. Below is a table with the results I found:

[table id=3 /]
As you can see, prices are pretty high. These couches are all new, but most of them are not really what you are looking for. Some of the designs wouldn't match your house, and the prices aren't really that budget-friendly.

And that's because they were the cheapest ones I could find.

There's a big price difference between new and used couches. If you know that your current home will not be your forever home, it probably makes sense for you to buy a used one. I guarantee you there are several people in your area who are about to move and don't know what to do with their couches. If you can find them, you get a good couch for cheap, they get some money for it, and everyone goes home happy.
Check Apps and Websites in your Area

In order to get a good deal, you first need to find someone who's selling a couch you're interested in. Depending on where you live, some apps or websites might be more popular, but generally Facebook's Marketplace, Craigslist, and the apps LetGo and OfferUp are your best bets. I've used all of them both for buying and selling, and I got good deals in all.

The Marketplace on Facebook is currently my favorite option, and this is how you find deals there: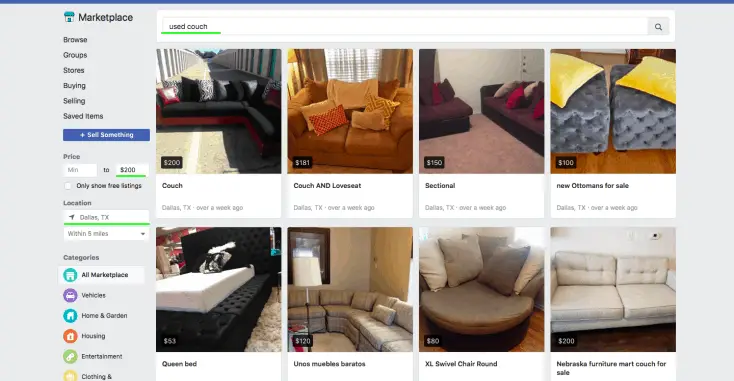 Add your zip code to Location, type in 'Used couch' in the search bar, and set up your price limit to $200 (or $225 if you're feeling extra splurgy). You'll see a bunch of options, and you can find the one that will best match your living room.
In this case, my favorite would be one below. It's $50 for a couch that looks fairly nice. The seller wrote that one cushion might need replacement, but it looks like if you lay a throw blanket on top, it will look pretty nice.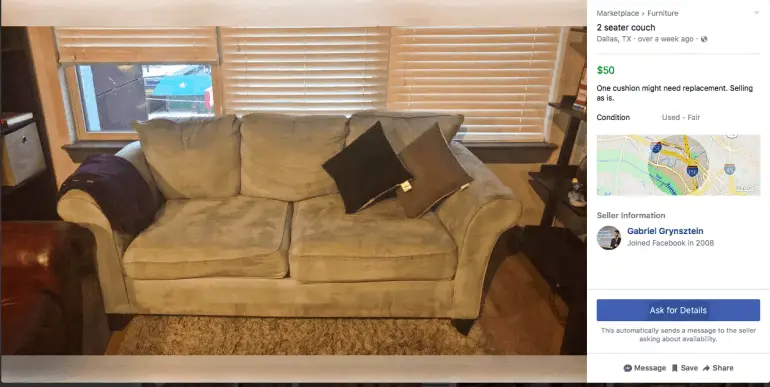 Questions to Ask

You want to ask the seller some questions before you head there to buy it. These are some I personally think you should ask:

What are the dimensions of the couch?
What is the color?
Why are you selling?
Is your property smoke-free?
Do you have pets?
How long have you had it for?
Would you deliver?
If the seller answers those, it means that he or she is pretty interested in selling. If you like the answers, it is time to move on.

Negotiating Couch Prices

The best part of buying it used is that you can negotiate. Sellers who can't deliver the couches are in a pretty delicate position, as not many people can pick up a couch. I suggest to ALWAYS try to reasonably bring the price down. Don't offer 10% of what they're asking for, cause that's just disrespectful. But in this case, for instance, ask the seller if he can actually do $30 provided you can pick it up today.

If he says yes, you just need to set up a pickup location and time. If he says no, ask him what is the lowest he can take. Once you're able to agree to a price, it is time to go pick it up.

Couch Pick Up

Sometimes sellers are able to deliver it, but most times they can't. If that's your case, then you'll need to pick it up yourself. Trust me, I've done this a lot of times and it can be a hassle. After you do it a couple of times, you start getting a feel for it though. If you own a truck, you're solid. If not, you can either ask a friend who has a truck to come with you or you can rent a u-Haul for an hour or two. It shouldn't cost you more than $25.

Whatever method you decide to use, you should also purchase a dolly. Once I bought one, it was a game-changer. I own the Ironton Carpeted one and love it. You can purchase it on Amazon for $9.99, but you can also find it at Lowe's or Home Depot for a little more. I was able to transport huge sectional couches by myself using this little guy since they hold up to 1000 lbs.
Selling a Used Couch – Example #1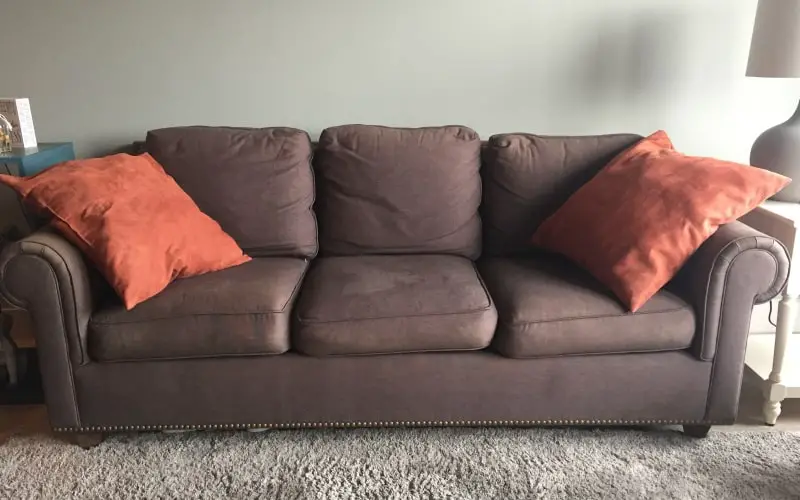 This was the first used couch I purchased. I found it on OfferUp, and it was listed for $100. The owner was moving into a new apartment and had to get rid of some stuff. I told him I would be able to pick it up by the end of the week, and asked if he could take $60. He agreed to it, so I asked a friend who owns a truck to help me pick it up.

I made the mistake of not checking how close the seller's apartment was. It took my friend about an hour each way to pick it up. I gave my friend some money for gas, so it ended up costing me about $100 total. It was more than I was expecting, but it was still a pretty nice couch for a very reasonable price. Since I ended up moving again just 8 months later, I was really happy to know that's all I had spent.

Also, we didn't have a dolly to transport it at the time. We both carried it and ended up with our hands and backs pretty sore. Rookie mistake.

Selling a Used Couch – Example #2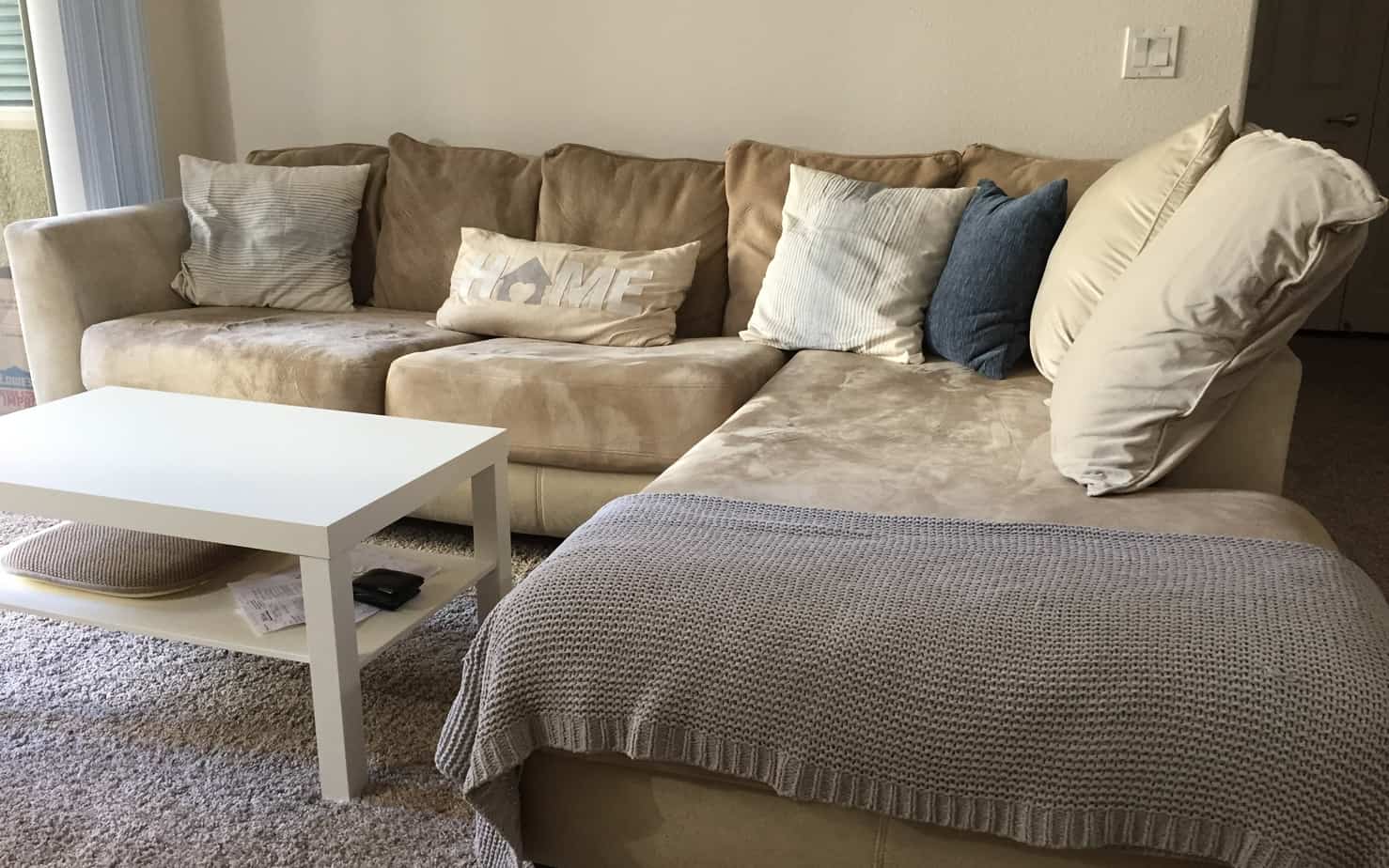 After I moved again, I felt like I knew the secrets of the trade. I found this other couch from a seller who lived about 5 minutes from me, and it was listed for $90. I asked her if she could do $70, and she agreed. Since I didn't have any friends at my new city, I rented a u-Haul for two hours for $25.

This time I had my dolly, so the process was SO MUCH better. The seller helped me load the couch into the truck, and I brought it home by myself. I barely had to do any physical effort and managed to get a sectional for $95 total. The couch is comfortable, in good shape, and I didn't have to break the bank to get it.