Having a Desktop PC might be a little bit complicated since it encompasses a lot of space, and you need to be sure that the place where you will put it will be safe. Since the computer tower is quite big, people opt to put it on the floor or carpet next to the work desk, so there will be more space on the desk. However, is it safe to put a computer tower on the carpet? 
It is important to consider a computer's airflow before putting it on the carpet. If a carpet is very thick, the airflow might be obstructed which will make it unsafe for the computer. An alternative is to put it on a platform or a stand, so the computer tower will not be directly placed on the carpet.
In this article, I will explain why it is not always safe to put the computer tower on the carpet, and what options you have when you cannot put it on a desk. I will discuss the surfaces which are safe for computer towers, so you would be sure that your PC will work without obstructions. Placing the computer tower on surfaces that are not adequate might lead to the PC crashing down, so definitely want to avoid that. 
What Do You Put On The Carpet Under Your Computer?
Finding the perfect place for the tower of your computer might be difficult since it encompasses a significant space. If your desk is small or medium size, then it would be impossible to put it right next to the screen, and you will not have space for your work. Therefore, the most convenient place would be the floor. 
However, placing the computer tower on the floor is not so simple since you have to take into consideration several things. For example, if you have a thick carpet, that might obstruct the work of your computer or come to defects of the same. Thick carpets can block the airflow of the computer, meaning that your computer would not be able to cool off while working. 
The air vents are of essential importance for the work of the computer, therefore they must not be blocked. Thick carpets will surely block the air vents, and you may not notice it right away, but over some time your computer will cease to work properly. 
Furthermore, carpets are difficult to clean since they have thick layers and dust enters them quite easily. The air vents absorb the dust and their work can be furtherly obstructed. Therefore, putting the computer tower directly on the carpet would not be a good idea. 
However, you should not despair since there is always a solution for things like this. Instead of putting the computer directly on the carpet, you can use a stand that will keep it away from the carpet, and it would be easily cleaned. That way you will let the air vents work freely, and dust could be removed more often and in a simple way. 
If you do not have any kind of platform or stand, you can buy rolling stands that are designed specifically for this purpose. This also contributes to the easier moving of the computer tower, so you would be able to clean that space freely and simply. So, whatever you choose would be better for the performance of the computer than the direct position on a thick carpet. 
Can I Put My PC On The Floor? 
If you place your computer tower on the floor, the air vents will not get obstructed, but the computer will suck in more dust, hair, and dirt for sure. The floor might not be as dirty as the carpet, however, it has a lot more dirt than the desk, for example. As I mentioned before, the dust can still keep the vents from cooling the computer, so its work would be significantly disrupted. 
The space on the floor on which the computer is placed is not cleaned so often and people tend to forget it since you do not have the necessity to move it. However, the space underneath and around the computer needs to be cleaned regularly, so you will not obstruct the vents from their work. Therefore, if you decide to place your computer tower on the floor, make sure that you dust and clean that area usually and thoroughly. 
What Surface Should I Put My PC On?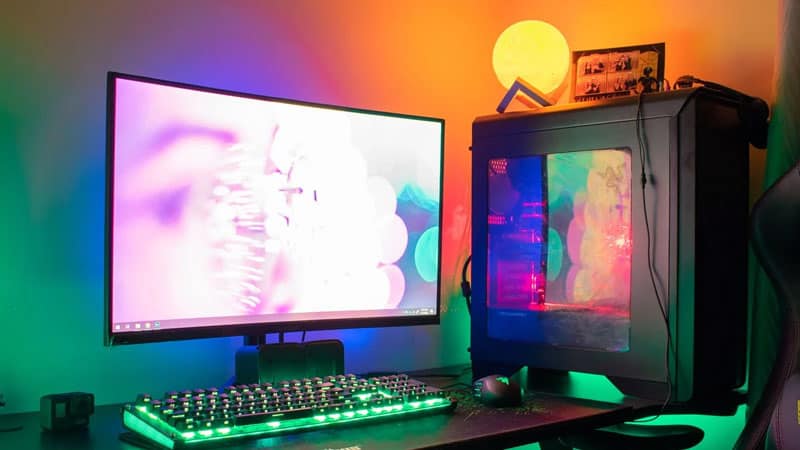 You can choose several surfaces and places where you can put your computer and keep it safe and well-performing. Therefore, the first and the safest option would be some kind of platform or a stand that will keep the computer away from dust and dirt, and without obstructing the air vents. You can also purchase rolling stands that will aid you in moving the computer and easily clean it. 
If you do not have a stand or a platform, and you do not want to invest in purchasing one, then you can use cardboard. However, you need to make sure that the cardboard is stable, flat, and hard. Also, it needs to provide good ways for air venting and cleaning. 
You can also choose to put it on the floor if that is your only option. However, make sure that you clean that area regularly because you do not want dust to enter the computer and obstruct its work. You should especially avoid putting it in a corner since those areas are most prone to absorbing dust and dirt.
You can also put it on the desk since this would be the most convenient option if you do not have a stand or a platform. This is an area which you clean often, so dust would not be a problem. 
As you could see, there are a lot of options when it comes to surfaces for your computer tower. As long as you keep that area clean, and you do not obstruct the airflow you are good to go. You should remember that a thick carpet is not a good option and you want to avoid that surface for your computer.