Popcorn, Pop-tarts, and other things you need to heat up fast usually go into the microwave. Microwaves have become sleeker in the past few decades and can fit into specific spaces. Is it safe to put it into a cabinet if you have a microwave like that?
It is unsafe to put certain microwaves into a cabinet because they produce heat from the top and sides. However, you can make some modifications to allow proper ventilation and storage. After making suitable safety adjustments, you can put a microwave into a cabinet.
This article delves into using a microwave in an enclosed space and whether you can put a convection microwave in a cabinet. I also discuss what kind of microwave can go in a cabinet and how to set up one in a cabinet.
Can You Use a Microwave in an Enclosed Space?
Computers moved from giant machines that needed an entire building for storage to be small enough to fit into a pocket, and microwaves have made a similar transition. The functions of microwaves also changed with time. Old microwaves were made to function as a new type of oven for large items like hams and turkeys.
Today, microwaves are for convenience cooking and heating leftovers. There are about four types of microwaves, and each fits into specific spaces and serve unique functions. You can use some designs in enclosed spaces, whereas you must leave others in the open.
You can use a microwave in an enclosed space if you meet the clearance for installation and settle the ventilation issues. If you have a countertop microwave and want to put it in a cabinet, check with the manufacturer to know what you need. Some models require a trim kit and have particular ventilation requirements.
Can You Put a Convection Microwave in a Cabinet?
A convection microwave is not a simple microwave—it combines an oven function and requires a ventilation kit for conversion to a built-in microwave (in a cabinet). The ventilation kit will have clearance requirements that satisfy protection codes and handle fire risks.
If your convection microwave is a countertop design and does not come with this ventilation kit, you cannot put it in a cabinet as a built-in microwave because it will overheat and cause a fire.
You should call the manufacturer to request a kit if they have one for your model. If they don't, they can also advise you on the ventilation requirements of your model.
Some models only need two inches of clearance on all sides for proper ventilation and for hot air to circulate. You can put a convection microwave like this into a cabinet without a kit.
What Kind of Microwave Can Go in a Cabinet?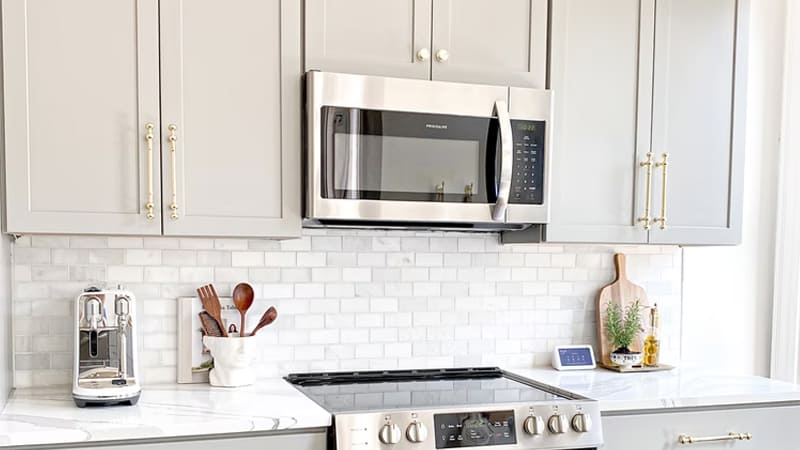 A microwave provides a lot of convenience in the kitchen by fitting cooking into busy schedules and streamlining meal preparation. It is essential to place your microwave correctly to take full advantage of it. 
Simply placing it on your countertop takes a lot of workspaces you could otherwise use for storing easy-access kitchen utensils or prepping ingredients. Also, you cannot put all kinds of microwaves into a cabinet. 
Knowing how to integrate your microwave into your kitchen space will give you a more functional and organized kitchen. Here is a brief description of microwave designs and the proper places to house them:
1. Countertop microwaves
Countertop microwaves are finished on all sides and rest easily in a nook or on top of the counter. They need sufficient space to cool and do not have a wooden frame surrounding the unit. It is designed exclusively for a countertop, and it has vents built into the back and sides.
The venting system makes it almost impossible to put it in a cabinet, and unless you can meet the venting requirements within the cabinet, do not put it in one.
2. Drawer microwaves
These modern designs are built into cabinetry like a standard built-in microwave, but they can pull open like a drawer. You access food from the top and can use it in various applications.
3. Built-in microwaves
Like wall ovens, you install them into a cabinet or wall for a seamless kitchen design. A truly built-in model has a drop-down door compared to a countertop microwave with a trim kit. They usually include convection technology and serve as secondary ovens. Built-in microwaves are the most expensive style in the market.
4. Over-the-range microwaves or microhoods
These microwaves are combined with a built-in hood fan and can be put over a built-in cooktop or range. Microhoods are the best-selling microwave style in the market.
How Do You Put a Microwave in a Cabinet?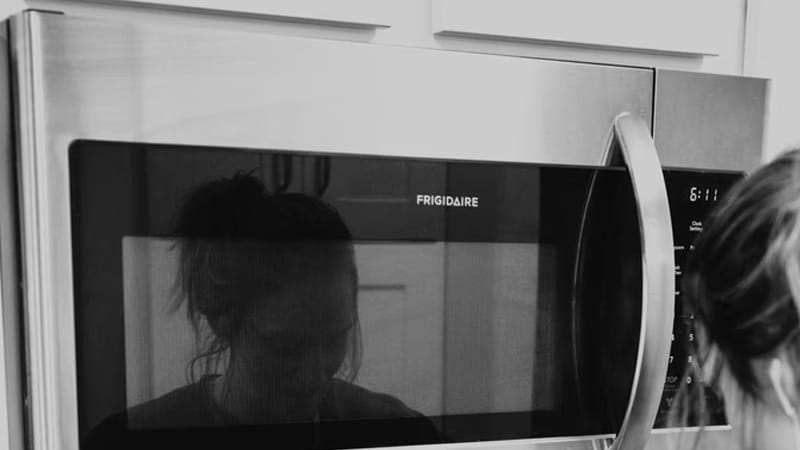 Putting a microwave in a cabinet efficiently creates more kitchen space, especially if you have a countertop model. If you are not doing a complete kitchen remodel, you need a little construction to put your microwave in a cabinet. With minimal effort and the right tools, here's how to get it done:
Gather the materials you need
Protective glasses
Screwdriver
Sandpaper
A small handheld plunge or circular saw
Make sure that the size of your microwave—19 inches, 24 inches, or 30 inches—fits into the space you have, with enough room for ventilation.
Check the recommended depth to prevent the microwave from jutting out. Also, confirm from the manufacturer that you need a trim kit, a matching metal ring that fills the space between the cabinet and microwave.
Remove the cabinet doors and cut out the bottom of the cabinet if necessary.
Resize the bottom and replace it on the cabinet.
Cut a hole for the microwave's plug, and plug it in for a test run.
Place the microwave into the cabinet, secure it according to the manufacturer's instructions, and add the trim.
Finally, resize the cabinet doors and re-hang them. Sand them down and repaint if needed.
While putting your microwave in a cabinet does not require demolition, you might not get the fully integrated look of a built-in unit. You would do well to read your microwave's instructions to see the type of ventilation it needs and make the necessary adjustments.