Your next home improvement project might be to refurbish your old and dusty windows. A single window may be easy enough to do, but a whole house will require a professional. So between Lowes or The Home Depot: who has better replacement windows?
Given the competitiveness between these two retailers, there's unlikely to be much difference between the offerings. They both can do a remote consult, organize the full installation and offer warranties and finance.
I'll take you through the process of replacing windows and highlight how to get the cheapest ones. We'll also look at both Lowe's and The Home Depot in detail to see which one is right for you.
What Are the Cheapest Replacement Windows?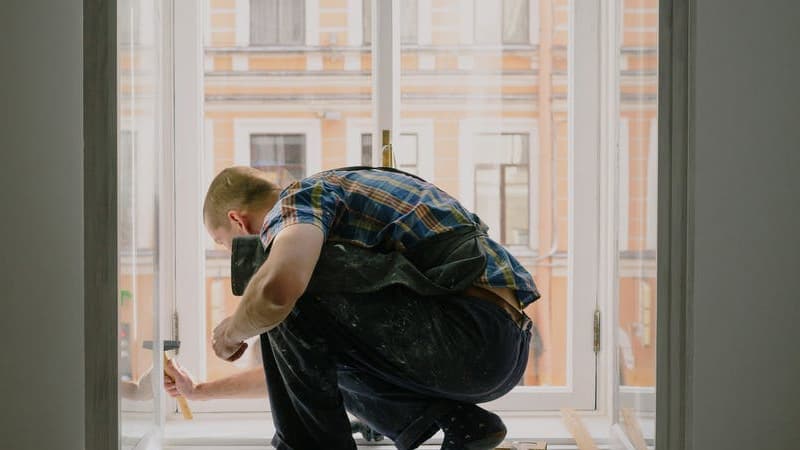 Given the variety of windows needed for the many different applications, the cheapest windows will be quite basic.
Generally they cheapest will be single-pane glass that is known as single-hung. 
WHile the single-plane may seem pretty self-explanatory, of course window glass is not cheap and so the thinner or single-pane versions will be giving you material cost savings already.
A single-hung window refers to the operation of the window itself during opening and closing. Only half of the unit opens out with a single-hung window.
When considering a replacement, you have to be careful about what it is that you're actually replacing. If a double-pane window was there before, replacing it with a single-pane version will not be quite the same.
Noise reduction and heating potential for the double-pane is much better than for a single-pane.
Other variations include increased costs from factors such as frame material, energy efficiency rating, design style, glass type, and amount of insulation. 
Design style is a large category by itself, as it includes inbuilt shades, locks and many other price increasing additions.
The other dimension of the price will be the current state of the windows. A window for new construction has what is referred to as a nailing fin. This is in effect the surface to which the window is attached to.
This nailing fin connects directly to the rough hole that will form the window, which is essentially an opening in a wall.
In contrast with this,  a replacement window is secured in an existing frame with screws or similar that run through the window assembly itself.
This means that a replacement window is a lot easier to install and is a great DIY job. As long as the existing frame around the opening is in good shape, then for most people a replacement window is the best option.
Who Has Better Replacement Windows Lowes or The Home Depot?
Both of these big box stores offer windows replacement as a service, including stocking the windows, organizing the install, and after sales warranty.
We'll look at the two offerings to compare which brings the most services, value and quality.
Lowe's
Have a great section on their website specifically for windows replacement and is the perfect place to start looking at the process.
As is probably expected, the first step is to organize a consultation. This has both remote and in-person options. The former is done via you getting instructed on how to measure your windows to be able to provide the relevant information to Lowe's.
During the consultation, the project specialist will go over options that would suit your windows and provide a tailored quote.
If you decide to go ahead, Lowe's organizes independent installers in your area to proceed with the install. The use of professional window installers who are familiar with the regional temperature and prevailing conditions means they will pick the perfect windows for you. 
Customer reviews point out that the quotes they get from Lowe's are similar or cheaper than that of professional installers. While this may seem a cause for concern, the ability of Lowe's to simplify the workflow and provide significant discounts on stock is attractive for installers.
Lowe's offers access to their finance program so that you can get the replacement and pay it back over time, perfect for emergency window replacements.
The Home Depot
The process is quite similar with The Home Depot, starting off with a free consult that can be done remotely in which you choose your window size, frame material, and color
as well as glass type (e.g. standard, Energy Star, etc.), and applicable grid pattern.
Quotes are generated on the spot and include labor, materials as well as financing options. 
The Home Depot will also remove your existing windows as part of the process and dispose of them as appropriate.
If a new window frame is needed along with a window, then The Home Depot will also replace the insulation during the install.
Is Lowe's More Expensive Than The Home Depot?
One of the first comparison points is to realize that the two companies are very similar and competing for much of the same hardware or home improvement market.
This means they will often price-match, and follow each other when one does a sale.
This competitive pricing sets a sort of price floor on certain items, so it is common to find similar popular items priced exactly the same. This is not the case across the entire product range, especially given that the stores have different brands, but fundamentally it holds.
Investigations on the real differences between the stores have been done, but the results are not overly helpful. For example, Business Insider remarks that The Home Depot's setup appears to be geared more toward tradespeople and professionals.
This atmosphere is reinforced by statistics that show nearly 50% of sales at The Home Depot were from professional contracts, compared to 25% for Lowe's.
A look at a wide range of products offered by both stores found that they were almost identical on price for most items.