IKEA is known for producing all types of goods that are stylish and comes in a variety of designs. But sometimes you buy a single item from IKEA without realizing that you may also have to buy the complementary pieces from IKEA as they are also non-standard sizes. So are IKEA mattresses standard size and able to be used anywhere?
IKEA mattresses are not standard size and you should check that they will fit into bed frames or similar that you have purchased separately. The difference is not great but to ensure it all fits it is definitely worth checking.
I'll run you through the IKEA sizes as well as comparisons for other mattress sizes around the world. IKEA mattresses tend to be different in some key areas so I will show you what to look out for to prevent you from having a mattress hanging over your bed frame and looking out of place.
Are IKEA Mattresses Only Designed to Fit IKEA Beds?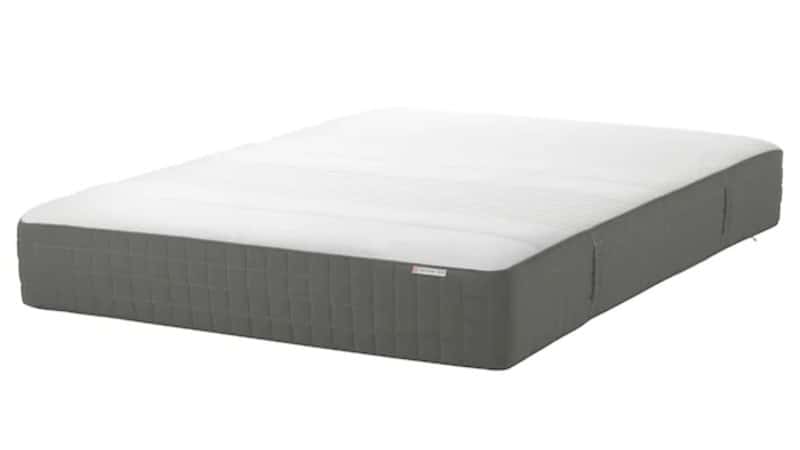 IKEA mattresses are different sizes from the standard mattress sizes you will find at other retailers. The difference is not so large that you will definitely have to buy an IKEA mattress to fit your IKEA bed frame but it is certainly worth measuring to make sure. IKEA is known for producing goods that stray from the ordinary.
IKEA has a comparison of standard mattress sizes to the IKEA size (sometimes referred to as European sizing) on their website which is worth a look. The length is the most common dimension to change, with a Standard Single coming in at 3' x 6'3" versus IKEA/European single at 3' x 6'6". The difference between using inches versus the European standard of centimeters is often where these small measurement differences come from.
IKEA likes to sell complete packages and so will encourage you to buy the bed frame measured to fit the mattress they also sell. IKEA, being a European brand, prioritizes their products fitting into smaller spaces to allow for apartment living and similar which is common across Europe. Sometimes the length of the IKEA bed frame is slightly longer than the everyday bed.
That's not to say that you only have the option of getting both an IKEA mattress and frame, but if you want to make sure you avoid issues where you can see the bed frame as it is too large or a mattress that could slip off a small bed frame, consider the dimensions before you make the purchase.
Another option is to run through IKEA's Comfort Guide which will ask you some questions in order to suggest appropriate bedding to you.
What Size Are IKEA Mattresses?
IKEA/European single is 3' x 6'6", IKEA/European double is 4'7" x 6'6", and IKEA/European king measures 5'3″ x 6'6". A comparison chart can be found here for the United States and Canadian sizes.
What this means is that generally across all sizes of mattress, you are looking at less than an inch in both dimensions when comparing an IKEA mattress to a non-IKEA mattress. It may be less than 0.25 inches wider but then 0.5 inches shorter, depending on the mattress type. This can be an issue also when thinking about fitted sheets in particular. Sheet suspenders or fitted sheets with deep corners/pockets are another option.
The IKEA website will list the dimensions for all the mattresses that they sell. Instore displays will also show either the label of a mattress, such as Standard Double or actually list the dimensions. By looking up the term on the IKEA website or by searching by product name, it will take you to a product page which you can then see the actual dimensions listed.
If you are still unsure, try measuring your current mattress or bed frame and mark down the numbers. It would also be useful to check the mattress tags for any information or the bed frame manufacturer to see what type of mattresses fit. Then a trip down to your local IKEA and measuring the bed frames (most IKEAs have a paper measuring tape, pencils, and memo pads at the entrance) to double-check is always a good idea.
Also keep in mind that due to materials and construction techniques, some find IKEA mattresses too soft compared to what they are used to. This is why you always want to test products before buying to prevent yourself from being disappointed and suffering from poor sleep. IKEA mattress models include poly-foam, memory foam, innerspring, synthetic latex, and blended latex.
On a side note, we'd like to point out that IKEA does not have California King bed frames or mattresses for sale.
What Size is a Standard Single Mattress?
Mattresses do not really have a standard size worldwide and differ by country or region. You can find many charts showcasing the various mattress sizes and their dimensions to find out what your local standard is.
Sometimes referred to as a twin-sized mattress, single mattresses in the United States generally measure 39″ by 75″ or 3.1' by 6.25'. 
Single size or twin size mattresses really don't fit two people and so almost any other bigger size mattress would be the choice. However, it should be the perfect size for a daybed, bunk bed, or guest bed, especially in smaller rooms due to space concerns. 
Two single mattresses are generally equivalent to a king-sized mattress. This can be useful as then the two mattresses are independent of each other which allows two people to sleep side by side without disturbing another as easily.
Another issue is that single mattresses generally will not fit taller people, especially those over 6'.
Finally, when you compare the pricing of the IKEA mattresses to other similarly sized mattresses, certainly the IKEA mattresses can be very good value.