Whether you just bought your new home or you're walking into your newly rented apartment, the first thing you will do is figuring out the layout. My couch will go there, my desk over there, and my pet plant right by the corner. As you start projecting all the ideas in your mind, you might realize that there's nowhere else to set up your dining room beside the front door. In your head that might feel kind of weird though, just walking in and BOOM, 'here, take a seat so we can have dinner.' When you're a guest at someone else's home, you usually have to walk past a couple of other rooms in order to get to the dining room, so that way you can see more of your host's house and feel welcome. What if that's the only way you can set up your home?

Can your dining room be by the entrance or front door of your home? While it is not the norm, it is definitely possible to have a dining room right by the front door while maintaining the flow of the house. However, in such cases, it is very important to choose the right color, size, and form of the furniture for your rooms.  
When you're renting an apartment in a big complex, you'll most likely be dealing with a limited amount of space. When you're purchasing an older home, the original layout may be a little funky. These things might leave you the option of having the dining room by the front door, but that shouldn't be an issue. The key here is to maximize space, and you can still have a welcoming, well-decorated home. While researching this, these were some of the important ideas I came across.

Delimit the Areas

By strategically choosing and positioning furniture in the right places, you'll actually be able to make your house look like it has a living room, a kitchen, and a dining room. Particularly in small apartments, if you're not careful, you might make it look like you only have one giant, overwhelming messy room (the Kit-Liv-Ning room). If you are, however, looking to keep your dining room and kitchen integrated, we have an article explaining how to successfully do so.

So, what are some ways you can delimit the rooms? A good starting point is to add a small welcome mat right by the door. This will define the entrance portion of your home, and not make it feel as much like you were already by the dining table. Additionally, a key holder and a little bench by the door might help as well.

In order to separate the living room from the dining room, you can set up the back of your couch facing the dining room. That will naturally create a sense of separation. If you have a sectional, that's even better. You can also set up different lighting in both rooms in order to differentiate them further.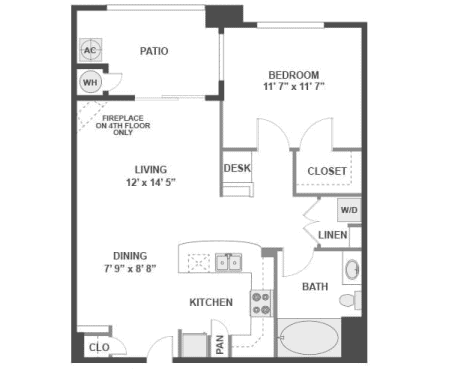 Find a Focal Point

Something that can easily happen in this scenario is not giving enough focus to the dining room. Since the living room usually contains a lot more furniture and decoration (TV, pictures, coffee table with decoration), it can naturally just outshine the dining room and make it look like it is just 'blending in.'

In order to avoid that, you need to bring the focus back to the dining room. But how can you do that? The difference in lighting already mentioned is a good starting point. You want to use a dining set that, while not being too overwhelming, it will have some personality. A good tip is to paint the walls behind the dining table in a different, bolder color. I know this is a little harder to do if you're renting an apartment, so you'll need to go a different route. Adding a nice, bigger painting behind the table might bring the focus to the dining room as well.
One more option to create a focal point is to mix and match dining room chairs, which can stand out and draw the desired attention. However, it's important to know what you're doing and avoid some mistakes that will leave you with a messy look.

Adding a chandelier is also a good option. If you can't do it, you can add tall standing lamps that will stand out.

Correct Furniture Size

When you're dealing with a limited amount of space, it is crucial to choose the appropriate size of furniture. You don't want to end with a gigantic dining table that will be invading your living room area.

If your dining room is more 'squared' shaped, a round table for 4 people will be a good fit. The fact that it is round also makes it easier to add more seats when and if it is necessary. If your living room is more elongated, a rectangular dining table might be a better fit. I would suggest going for either a 4-seat or a 6-seat table, depending on how much space you have available. For more information on this, you can check our guide on how to choose the right dining room table size depending on your space.
It's important to get the right size of couch as well. Make sure you're not getting one that is too big and invades the dining room space.
While this is not the ideal scenario, you can certainly make it work. When you're living in a home with a limited amount of space or a different design, remember that the most important thing is to maximize spaces so YOU are feeling comfortable.